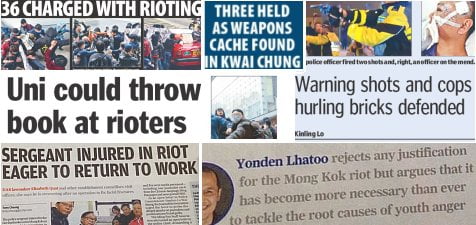 Following the Fishball Riot, Hong Kong suffers a predictable deluge of righteous outrage in the pro-government media. Young radicals are obviously evil – end of story. The police are heroes. (However, some police are blaming their higher-ups for inadequate support and resolve. The force is certainly being abused, but these disgruntled cops should aim higher; they are being thrust into impossible situations to satisfy Beijing's officials that the Hong Kong authorities are resolutely crushing CIA-backed pro-independence splittists.) All this is tempered by columns of inconclusive hand-wringing stating the obvious about violence being bad and government policies having room for improvement.
We also have a high-profile, heavy-handed crackdown on alleged ringleaders and fiends. As with the exploitation of the once-impartial and respected police force as a political tool, this is to satisfy Beijing officials. It is Mainland-style 'strike hard', rule-by-fear stuff, with Hong Kong characteristics – thanks to which it looks contrived and clunky. The authorities may well nab some actual rock-throwers, but only after much embarrassing overkill, not to mention Orwell-does-Keystone Cops weirdness…
As with the Occupy/Umbrella movement, decisions over prosecution may take ages or be mishandled, and then the courts will throw many cases out. But by that time, the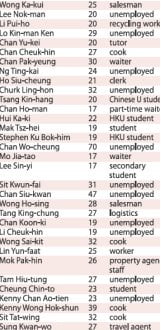 Communist Party's enforcers in the Liaison Office will not be paying attention, so it won't matter – unless you care about things like integrity of the law enforcement system, or Hong Kong's broader reputation.
No doubt Beijing would like Chief Executive CY Leung to seize the Fishball Riot as an opportunity to clamp down on Hong Kong's civil liberties and degrade rule of law. If we want to clutch at straws/find cause for optimism, we can expect the Leninist system to find pluralistic Hong Kong harder (or even harder) to subjugate than Tibet or Xinjiang.
Intimidating or otherwise undermining the independent judiciary will have grave repercussions on the business and investment environment. Meaningful repression of communications and the media will have the same impact. Maybe Xi Jinping doesn't care about all that, but there are a lot of people in the establishment and wider 'moderate' 'silent majority' with material wealth and personal ties at stake.
While it seems that Hong Kong is split along one-dimensional pro-Beijing/pro-democracy lines, the reality is more of a three-way struggle. There's a big population among the business community, the bureaucracy, the middle class and others who benefit from Mainland-related economic opportunities and who are insulated from the harm resulting from local political inertia. But they are uneasy about all these 'lines being crossed' – whether it's a panicky cop firing into the air in Mongkok or Chinese agents abducting people even on Hong Kong soil.
People talk about CY and Beijing dividing the community, but the Communist clampdown in Hong Kong creates conflict within individuals. You can be a respectable, upstanding establishment member who frets about young radical hotheads resisting Communist Party encroachment of local freedom – and at the same fret about Communist Party encroachment of local freedom. The young localists are not some last line of defence.
I declare the weekend open with another cheering thought for those who can see silver linings: have you noticed how many Hong Kong stocks are trading at well below their NAVs?