Hong Kong's five-yearly 'elections' for Chief Executive are a stage-managed farce. You are supposed to think that the vote is restricted to 1,200 members of an 'Election Committee' who are mostly selected for their pro-Beijing credentials. But even such a tightly constrained franchise is too unpredictable for the control-obsessed Chinese Communist Party. The winner is in fact decided in advance in Beijing, and a totally dependable and obedient core numbering a bit over 600 members of the Committee vote in accordance with instructions.
People who mock CY Leung as '689' for the number of votes he received in 2012 are therefore missing the point. Whatever the number of votes, the Election Committee was serving as a rubber stamp; his lack of legitimacy would be the same whether he had 389, 689 or 989 'votes'.
Still, as a quantifiable way to illustrate the absence of a popular mandate, 689 (make-believe) votes is pretty vivid. It's barely 0.010% of Hong Kong's population. Even if it were a real, open, non-rigged poll, it would be laughed off as so unrepresentative as to be meaningless.
Yet when Ted Cruz gets votes from just 0.016% of the US population in Iowa's primary, it is a major story because everyone believes/hopes that it means something momentous. Specifically, they see an omen that Cruz can beat Donald Trump, and – Cruz being even more, and more genuinely, slimy, scary and loathsome compared with faking-it Trump – this in turn means Republicans will ultimately rally round the dashing Marco Rubio as a least-repulsive, theoretically electable candidate. It's a lot of meaning to squeeze out of the red dots you can barely see here…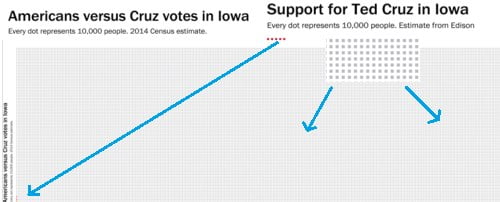 Similarly, people are reading a lot into the Democrats' results. They see the tiny handful of votes and coin-tossings between Hillary Clinton and Bernie Sanders as a signal that the US is headed for Socialism with Vermonter Characteristics, or that Hillary is a definite shoe-in – it's very clear and obvious either way.
The Hong Kong Election Committee is decried as a body packed with Communist-front patriots who believe anything they're told and opportunistic shoe-shiners like property tycoons looking for handouts and free lunches at others' expense. And with few ordinary citizens. Which indeed it is.
But what, then, is Iowa – especially primary-voting, caucus-enduring Iowa? An insignificant, mostly white state packed with Evangelicals who believe in a 6,000-year-old universe and farmers getting taxpayers' subsidies for producing a crop that is converted into either an inefficient fossil fuel substitute or a synthetic sugar put in every foodstuff imaginable and which quite possibly screws up the human metabolism in such a way as to cause obesity.
Election Committee, Iowa… each has a disproportionate number of devout and unthinking followers of an outdated belief system and grasping parasites profiting by making everyone else's lives worse. We can safely ignore both.
The difference, of course, is that the US's search for its next leader will become more inclusive over time, with anyone free – in principle – to run, and everyone wielding one vote that they can cast as they please. In Hong Kong, the choice of Least-Repulsive among CY Leung, Anthony Leung, Regina Ip, or whoever lies not with the people, not even with an unrepresentative Committee of 1,200 boot-lickers, but with the Politburo in Beijing, compared with which Iowa, and most anywhere else you can think, of is a haven of humanity and decency.