There is another possibility, and that is that the Hong Kong Salacious-Book Publishers' Abduction Outrage ends not with a bang but a whimper. Everything has suddenly gone rather quiet.
Perhaps the Chinese government is hoping that if nothing happens for a while, people will gradually forget, and the whole agonizing dilemma – what to do with these five kidnapped guys we've got on our hands – will just sort itself out somehow with no-one noticing a few weeks or months further on. After all, that's their solution to the country's stock market, which is overvalued some two- to three-fold: don't let anyone sell for a period, then extend that period, and, err, assume that some subsequent economic development or yet-to-be-determined policy will make everything right, in time. It's the young person's solution to toothache, as well: no need to go to the dentist – just leave it and it will heal itself, no problem.
The five publishers are almost certainly victims of the above-the-law Communist Party, with its feudal-style belief that Chinese people anywhere in the world, regardless of passport, are the emperor's personal property. But the kidnappings have produced two other victims. The good news is that they deserve no sympathy. Indeed, we are entitled to relish their discomfort and, to be honest, hope that their self-inflicted pain continues. It couldn't happen to a nicer pair of people.
First is lawmaker and former Security Secretary Regina Ip…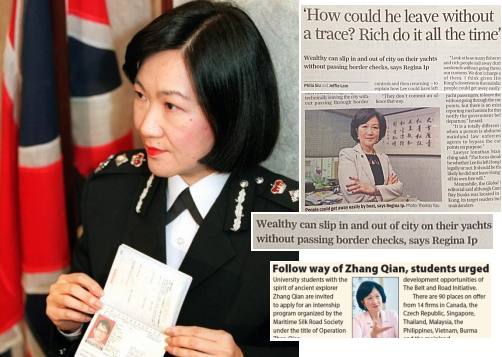 Drawing on her undisputed expertise in immigration matters, Regina reminds us that rich people with yachts, and plebeian types like fishermen, can exit Hong Kong without going through passport checks. Which is, I suppose, obvious (we might also include the passengers on the casino boats that sail out to the 12-mile limit every night).
Why is she pointing this out?
It is her latest desperate and unseemly attempt to win favour among the Chinese leadership. By implying that the five abducted publishers could in theory have gone to the Mainland without going through official cross-border formalities – and maybe, we subliminally infer, by fancy champagne-stocked yacht or something – she is publicly rejecting the possibility that Chinese agents abducted the men. She is asserting, without actually saying, that Beijing is blameless. In her fevered mind, the Chinese government will now rush to pick her as Hong Kong's next Chief Executive.
To this end, she is also organizing internships and tours of the Mainland so Hong Kong students can be subjected to a load of Belt-and-Road/Glorious Motherland/opportunities hogwash. The Communist Party reserves its nastiest kicks in the teeth for its most groveling sycophants, when they are no longer of any use, and poor Regina is lining up for just such treatment. In the meantime, it is stomach-churning to behold. Pass the sick-bag. I would rather be locked up with a book about Xi Jinping bonking some gorgeous pouting CCTV newsreader.
Even if it is laughably obvious to onlookers, Regina is at least calculating. The second 'other' victim is fellow lawmaker Ng Leung-sing, who simply comes under the category of tragic buffoon…

After appalling even some of his pro-establishment allies with the suggestion that the five abductees were on a Mainland whoring binge, he now apologizes. This is, as every news commentator in town hastily reminds us, the man who suggested that the lead contaminating some public-housing water supplies could be beneficial to health and perhaps explain Hong Kong people's high life-expectancy.
Like Regina, Ng is trying to please Beijing's henchmen lurking in the local Liaison Office. But he is so clueless and inept that he ends up damaging the Communist Party's cause far more than any pro-democrat politician ever has. If (as seems probable) Chinese officials got him to trial the prostitution theory, they must be wishing they hadn't. The classic caught-with-hookers stitch-up (complete with photo of victim in underwear on bed with condoms, 'stained tissues' and pixelated girl in background) would now be laughed out.
China's motionlessness and silence on the abductions may not be a supposedly cunning strategy, but an absolute necessity while the Mainland fiction-spinners struggle to concoct a barely credible face-saving story. By insulting everyone's intelligence, both Regina and Ng are making that job even harder.