Are people in danger of freaking out too much about too little?
To take an example: Greenpeace in Hong Kong have a track record of hyped-up scare tactics. In one publicity stunt years back, their activists emerged from a supermarket in full hazmat spacesuits holding a pack of cookies with tongs. The cookies were made with genetically modified soybean – as is half the stuff on the shelves that you've been eating for years. Such theatrics can reduce credibility. The NGO's recent finding of 2-6 nanograms per litre of PFCs in local reservoirs attracted only brief attention and created zero panic. The problem is that if Greenpeace ever discover a genuine imminent danger to public health, no-one will listen.
Which brings us to two supposed present threats to Hong Kong's freedoms: copyright amendment legislation, and the stationing of Chinese border-control facilities within the city.
The 'Internet Article 23' copyright amendment sounds like it's being pushed by the Chinese Communist Party, but the main driving force is the US and its entertainment industry. The intention is not to silence anti-government voices but to protect Hollywood's profits; that said, the law could in theory be used selectively for political reasons. Moderate pro-democrats, mostly lawyers who are respectful of both copyright and the US, are in an awkward position but have pushed for 'fair use' safeguards (thus 'singing a celebrity's song seriously with no hilarious or news critique purposes and uploading it to YouTube may be illegal'). Radicals, on the other hand, spy an opportunity for a filibuster as an end in itself.
Around 10 years ago, everyone had to start filling in forms and keeping count of how often they photocopied extracts from books and newspapers. Within weeks, the obsessive compliance silliness came to an end (maybe they still do it in universities), but no-one told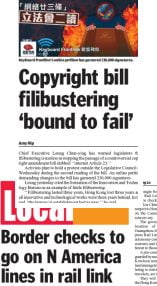 the Intellectual Property lobby, and that was the end of that. This looks similar, especially in terms of enforceability.
A real threat to Hong Kong would be any sort of move towards Mainland-style Internet-filtering. This copyright amendment may be worth opposing for whatever anarcho-libertarian or anti-Mouse reasons, but portraying it as the Big Internet Clampdown is misleading.
Similarly, the location of Mainland immigration on the Hong Kong side of the border (at the high-speed rail terminus) is not in and of itself worth too much mouth-frothing. I've been through US immigration while departing airports in Montreal, Nassau and Bermuda, and anyone on the Eurostar to Paris goes through French immigration at the station in London. It just makes sense in terms of positioning the facilities.
This doesn't mean the high-speed rail is a worthwhile project; it remains a humungous waste of public funds. Nor does it mean that Justice Secretary Rimsky Yuen should be believed the other 99% of the time. There is probably a nuanced thin-end-of-wedge argument against the border-control plan; Beijing would no doubt relish the symbolism of it (which seems to be the whole point of the rail link). And anything that complicates the white-elephant monstrosity can't be all bad. But to claim that this specific proposal means jack-booted militia patrolling the streets is misleading.
In both cases, it's about proportion and priorities and not getting distracted or blinded by the obvious untrustworthiness of the government. The more you freak out about these sideshows – copyright and immigration minutiae – the less capacity you will have to alarm and alert people when a genuinely/more-serious menace to Hong Kong's freedom comes along. And you can be sure it will. Meanwhile, here's Tammy Tam panicking that a particular method of blacklisting job-applicants for insufficient loyalty to the Communists might backfire.