Owing to abysmal leadership inflicted upon it by China's Communist dictatorship, Hong Kong has suffered government collusion with tycoons and their cartels, pushing housing prices and rents sky-high and overloading the city with overseas shoppers and tourists. In response to growing public disquiet, Beijing then broke its earlier promises of democratic reform. That created further unrest, which the authorities countered with police violence, abuse of power, intimidation and smear campaigns. The result is an unprecedentedly divided community. Disturbingly, it is the better-educated, middle-class and younger parts of the population that are the most alienated and angry. How can the administration best solve this situation?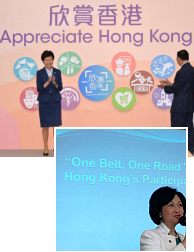 1. Give the public free access to museums for a limited period (conditions apply)
2. Mesmerize the disgruntled with a command to grasp bounteous wealth and opportunity through exclusive exciting magic One Belt One Road® pixie dust
3. Have a mega-brainwave and offer uppity young activists seats on the government's hugely effective advisory boards, so they can strut around and look important alongside pillars of the establishment like Bunny Chan, Ronald Arculli and Anthony Wu.