Cast your mind back to late June 2013. Hong Kong's Justice Secretary Rimsky Yuen was making pitifully weak and whiny excuses – infant-level lies, in fact – to explain away some embarrassment. Not unusual enough to stick in your mind? OK: Hong Kong was still buzzing with excitement after US intelligence whistleblower Edward Snowden had passed through the city a few weeks earlier.
Yes, that's how long ago we're talking.
On Cochrane Street next to the Mid-Levels Escalator, the cheap-and-cheerful Vietnamese restaurant Pho Tai had just closed down. Residents resigned themselves to another round of touristification as the outlet aimed at locals gave way to some plasticky, glitzy outlet selling 'serum' cosmetics, scented candles or gift-wrapped French macaroons. Yet the shop stayed empty, costing the landlord maybe HK$200,000 or more per month in foregone rents. The months turned to years. The lost rental income must have run into millions.
Finally, it has come to pass. The premises are now occupied by something called Emack &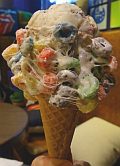 Bolio's. So ludicrous, I have to Google it. A fancy ice-cream chain. The corporate backstory (named after homeless people, anti-Vietnam war, pro-gay rights) sounds like such a parody of trendiness that it can only have been created by an exceptionally scummy and cynical ad agency. Within minutes of its opening it has an equally suspiciously glowing review at Openrice, showing a cone of frozen vileness (I mean – Froot Loops? Please.)
Needless to say, a long line of consumer-zombies immediately forms at its doors…

At least it's not scented candles. (Will they embrace local radical causes by, say, sticking little paper yellow umbrellas into their icy goo?)
Not far down the hill, at IFC Mall, innocent members of the public were confronted by a large herd of rabid, baying real-estate agents…
The photo doesn't convey the depth and density of this crowd of losers. There were at least a dozen security guards pushing the dimwits in suits back behind the line. Some of them had oozed out onto the adjacent walkways – and I later saw a few around the Escalator as far up as Emack & Bolio's. Several tried to corner me. There was one of those horrendously pushy plump women who seem to inhabit the world of sales, who would have wrestled me to the ground had I not been able to outrun her. Another was a tragic guy who desperately begged me to visit the show flat in order to 'help him'. People who emerged from the show flat were chased and harried by a clawing, screaming mob slightly reminiscent of refugees fighting over food handouts.
I can't remember the name of the development, but I know it wasn't Yuccie Square or La Mansion, mentioned in today's Standard.
Froot Loops ice-cream, horrid little apartments in Yuen Long… Today is obviously dedicated to pointless overpriced garbage you don't need. There are whole stores offering this junk. Don't forget: Christmas is coming.
We start with the cap clip, which secures your cap to your shirt with a cord…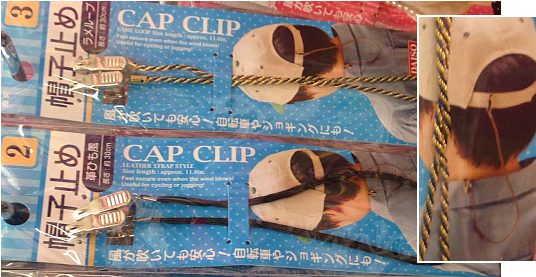 Any wind fierce enough to dislodge such a cap from your head would tear the cord off your shirt, but otherwise – how did we ever get by without them? (And yes, they come in different sizes.)
More mystifying are the hair-drying gloves…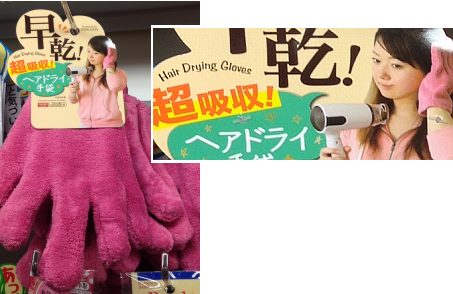 Are they asbestos-lined to protect delicate fingers from the heat of the hair-drier? Or does the fuzziness fluff up drying hair in some desirable and fashionable way? We will probably never know.
Unlike the shoe-band, which has a perfectly clear purpose. You get plain, drab, boring women's high-heeled shoes that expose most of the upper foot. (Low-cut? Open-top? There must be a name for them.) You attach the shoe-band, and voila – you suddenly become the only girl at the party eschewing an ankle bracelet in favour of a dead mouse…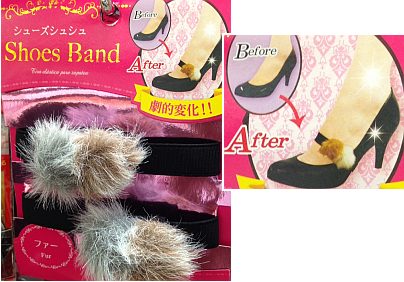 Animals need pointless garbage just like anyone else. Bonzo will be thrilled when he sees his very own mosquito coil holder designed specifically for his species…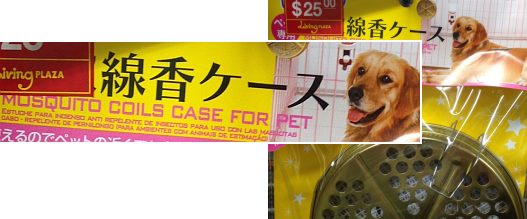 …while the more plebby canines will surely appreciate the soccer shirts and shiny PVC raincoats on offer …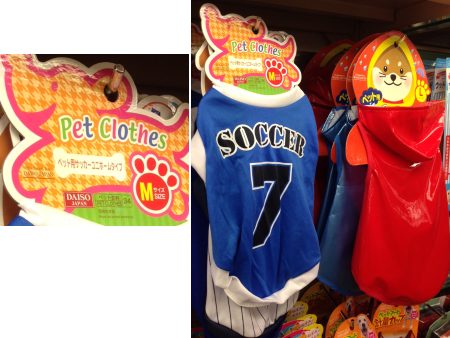 And of course, with winter coming, let's not forget our other loyal family friends – the chairs, who will absolutely love these  socks hand-crafted just for them…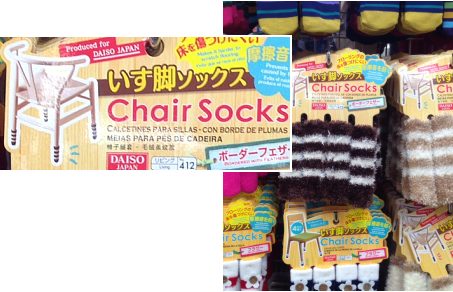 It's not just 'socks for chairs' as a concept that amazes. It's the sheer variety of colours and styles that the poor bewildered furniture must choose from every morning.
And – this just in – the ultimate in ridiculous worthless trash: the Confucius Peace Prize. (That same source, by the way, wins Headline of the Day Award.)