Yesterday's South China Morning Post carried part 4 in the paper's report on key religious figures, and today's resumes the post-Occupy/Umbrella 'Moving Forward' series. Both feature aging men whining about how Hong Kong's awful (especially young) people should be more Mainland/Chinese.
Thus in part 3 of the religious figures series, the hitherto unheard-of leader of the local Confucians (not really a religion, but anyway) lamented Hong Kong's 'British-style' culture. Past tripe from the unremittingly tiresome 'Moving Forward' series can be seen here and here – the latter including a classic quote from an interviewee saying the key to boosting Hong Kong's competitiveness is 'cross-disciplinary productivity, which will create new things that are impactful'…

Yesterday's religious leader was the local Buddhist boss, who predictably complains about young people's 'foreign/Western' education and lack of understanding of Chinese culture. He recommends yuan rong, or 'perfection and fusion', as a way to restore harmony.
He also says the young have a bright future on the Mainland, as it has lots of job opportunities. So the SCMP headline could read 'Buddhist advice on satisfying your lust for money'. After all, Buddhism is at least as sleazy and money-grubbing as any hypocritical monotheistic flimflam. Racist Burmese monks and the corrupt Shaolin abbot are old stories, and closer to home as we speak we have a fraud-committing nun and her fake marriages. This, rather than demanding democracy, is the way Hong Kong's Umbrella generation can find Nirvana.
Today's 'Moving Forward' piece features Antony Wu, the ubiquitous all-purpose cheerleader of the bureaucrat-tycoon cabal that ran Hong Kong back in the days of Chief Executive Donald Tsang. Last heard of being censured by the accountants' disciplinary body, he is now apparently advising China on, among other things, family planning. Which would be fascinating, so obviously the SCMP overlooks it, and focuses only on his 'young-people-crap, Mainland-wonderful' comments, which is the same stuff as in the rest of the series.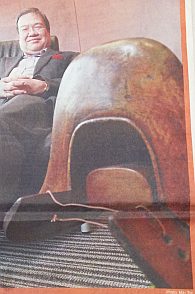 In one respect, however, the Wu interview is noteworthy and thought-provoking – namely that thing next to the great man in the photo. It obviously brings him pleasure and comfort. Is it a camel saddle? Or some sort of yoke placed around the necks of peasants as a punishment? Or is it a little house for his pet elves? I declare the mid-week mini-weekend open with the hope that perhaps it is a 'new thing that is impactful'.
(Hmmm…. Disappointing.)