More light is shed on the Great Hong Kong Separation-of-Powers Mass-Bemusement of 2015 as Chief Executive CY Leung and Mainland academic Rao Geping seek to clarify Beijing official Zhang Xiaoming's comments on the city's constitutional arrangements. In other words, if you weren't already confused, you will be now.
CY announces – in essence – that Hong Kong 'is a local government, and therefore not in a broad sense a government'…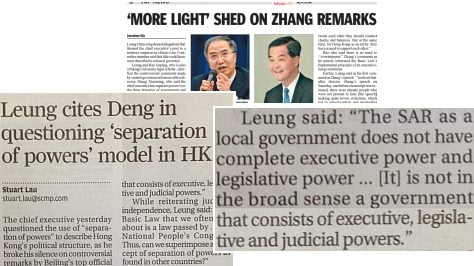 Compared with which, Rao can only be a pillar of critical thinking. But he still seems to tie himself in knots explaining what Hong Kong does have, in the absence of separation of powers. He describes it as 'mutual check and balance and cooperation' of powers 'under the leadership of the executive'…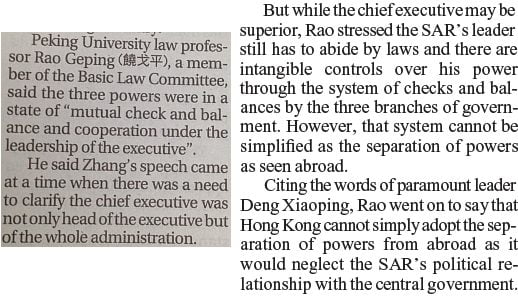 Montesquieu's brain explodes.
Part of the problem seems to be terminology. Beijing's apologists seem worried about what we call things (and what we think they might mean – not some nasty foreign thing) rather than what is actually going on out there. The South China Morning Post quotes CY as assuring us that when Zhang said the Chief Executive 'transcends' the three powers, he did not mean 'overrides'. Obviously, we are supposed to say: 'Ah – OK, got it'.
But we don't. The SCMP has a go at explaining why Beijing is so insistent that we wise up, concluding that it is a reaction to things like nativism and defiance of CY…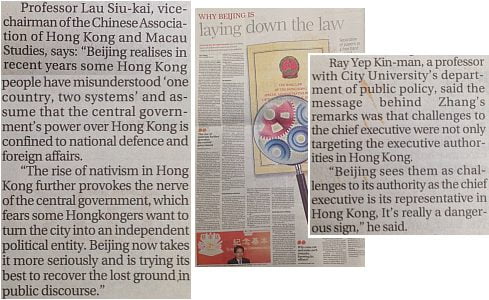 This is no doubt true so far as it goes, but of course nativism and defiance of CY are themselves reactions to Beijing's creeping intrusion in Hong Kong affairs. It's a chicken-and-egg situation. Which came first: the ungrateful and untrustworthy foreign-influenced rabble threatening Communist Party rule, or the mouth-frothing paranoiacs tightening their Leninist grip?
We have elections on the way. There are growing signs that even the most loathsome shoe-shiners are getting sick of CY. And we have constant tension over Mainland shoppers, lead in water, the Avenue of Stars, and on and on. It hardly seems a great time to angrily regurgitate illogicalities about how Hong Kong can't have an independent judiciary in theory, though it's OK in practice. But with Xi Jinping's witch-hunts, stock-market suspensions, chemical explosions, lawyer arrests, church-cross demolition and general freaking-out in full swing, is any time a good time? Best assume that this is not simply about us.
Rao Geping stresses that Hong Kong's non-use and inability to have separation of powers is related to the fact that it is not a sovereign country. Beijing officials also sometimes use this as a reason why the city can't have democracy. In both cases, it's blatantly incorrect, but it gives us an idea of what he is actually trying to say: as a one-party state, China cannot have separation of powers, so a mere administrative region certainly cannot either.
In other words, this whole fuss is not about what Hong Kong can have, but what the entire one-party People's Republic of China cannot/must not have.
Why can't these idiots just spit it out? Because, perhaps, deep down – maybe only subliminally – they find it awkward and humiliating to openly acknowledge the true nature of the one-party system. A form of government in which the leaders can survive only through absolute, terrified, obsessive control is, let's admit it, pretty pathetic.