How does Uber boss Travis Kalanick hurt the feelings of the Chinese people with the map he used at a conference in Beijing yesterday? Let me count the ways.
1. Although it doesn't show the area, the map has labels implying that indisputably Chinese land on the border between Nepal and Pakistan could conceivably be Indian.
2. It shows the part of South Tibet cruelly stolen by British imperialists and now named 'Arunachal Pradesh' by India in the same colour as India and with a hatched effect, suggesting it is in some way not a full part of the glorious motherland.
3. It calls the Xisha islands, which have been integral and greatly cherished Chinese possessions for millennia, the 'Paracels', suggests their ownership is not beyond doubt,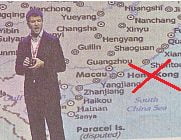 and omits the rest of the South China Sea, down to the shores of the Philippines, Borneo and Vietnam, which is all unquestionably Chinese territory.
4. (or probably 6. or 7. by now) Perhaps most staggeringly of all, the map uses the hatched effect for Taiwan, as if the island province is somehow of a different status from the rest of the country. It also leaves the Diaoyu Islands unnamed, as if it were another country's territory, which of course it is not.
And this guy wonders why Hong Kong's patriotic Chief Executive CY Leung orders his valiant police to kick Uber's door in and drag the interns off to the dungeons.
And why is the South China Morning Post putting this disgraceful insult to the nation's territorial integrity on its front page? Next thing, they'll be publishing fellow race-traitor Minxin Pei's musings on the fate of the 'predatory state'.
At least the Standard can be relied upon to keep things sane…