In many decades' time, there will be glossy coffee-table books looking back at Hong Kong in the good old days before it became really overbuilt and unlivable, and they will contain this quintessential portrait of Queens Road as it was in September 2015…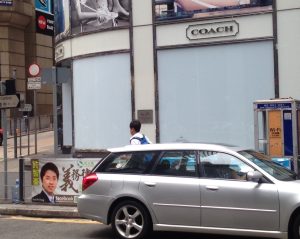 The illegally parked car. The banner advertising the dashing young Democratic Party candidate. And the Coach store, with curiously – and exquisitely – whited-out windows. They are obscuring the sight of shelves and displays being dismantled, which would shatter the brand image of The Company that Defines Modern Global Luxury, and make it look a bit more like Yet Another Purveyor of Overpriced Junk to Mainlanders Leaving Our Streets, Thank Heavens.
Meanwhile, up the hill, the neighbourhood is experimenting with new ways to rid the area of the Great Korean Tourist Hordes Menace. We are starting with this…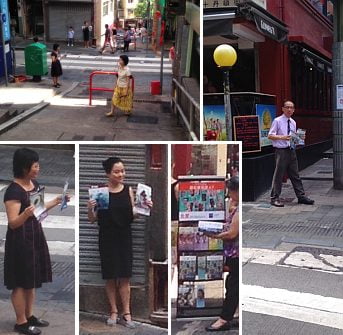 Jehovah's Witnesses. Forbidden to receive blood transfusions, raise flags, celebrate birthdays or mix more than absolutely necessary with 'the world' of outsiders – yet still capable of being a pain. The faithful clutching their leaflets are smiling not out of friendliness but fear: they have noticed believe the rest of us are dominated by Satan. (Worth remembering if you ever need to get rid of them in a hurry.) The plan is that the grinning proselytizers, with their unique form of creepiness, will at least divert the Seoul Selfie-Stick Surge into some other district, if not sign them up and take them away for processing.
(If you find the JWs too hip, groovy and laid-back, you should try the Plymouth/Exclusive Brethren, who are so petrified of the outside world that they fear barcodes as the Mark of the Beast – or certainly did at one time – though in their defence, we could point out that their menfolk are barred from wearing ties.)
If the JWs fail to repel the tourist invasion, we will try force-feeding the visitors Marks and Spencer's new gag-inducing 'Lemon and Dorset Clotted Cream' mooncakes…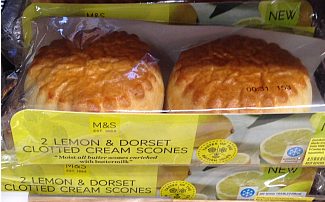 And in the last resort, we will turn to the ultimate extraterrestrial solution…