Like Hong Kong's pre-1990s British administrators, but with extra added paranoia, China's Communist Party took care to co-opt business and other interests as a support base in its new colony. To Beijing, it seems, loyalty bought from supposed 'elites' is essential to control over the foreign-infested city. The alternative – winning local hearts and minds through enlightened governance – is too alien and perhaps anarchic for a one-party state to contemplate.
One result is that Beijing sees the population beyond its United Front network as hostile. This means the central government appoints senior Hong Kong officials only from the narrow and shallow pool of people it deems trustworthy. This inevitably reduces the amount of talent available; the resulting poor governance increases public hostility, which drives Beijing to rely on an even more-select group of inept loyalists – and so on in a saga of plummeting quality, the next ghastly chapter of which will be Whoever They Choose After CY Leung.
Such favouritism is also affecting the economy. We all know that the property tycoons are a caste apart, with a Beijing-granted right to skim off a fat percentage of the wealth Hong Kong people create. The luxury projects they build serve as stores of wealth for corrupt money-laundering Mainland officials. The tycoons further prosper from the influx of tourists that just so happens to wear away Hong Kong's unique identity. Other interests, from import-export to toys to banking, get perks, protection or just flattery in return for obeisance to the Communist Party.
No doubt following the examples of the Phoenicians, Romans and Mongols, the British in 1950s-60s Hong Kong groomed dependable supporters among Shanghai industrialists. Cantonese businessmen were a bit suspect, having perhaps collaborated with the Japanese or possibly having links with the Communists. The colonial government granted these Shanghainese precious textiles quotas for selling garments to Western countries. The lucky recipients got rich without getting their hands dirty by selling the quotas on to actual manufacturers. Their descendants walk among us today – look at any flaky or slimy pro-establishment politician called Tien or Tang.
Which brings us to taxi licences and Uber. In his column yesterday, Jake van der Kamp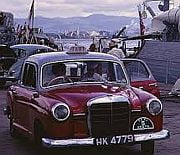 wrote that the Hong Kong government will never let Uber displace taxis because the holders of taxi licences form the biggest bloc in the Transport functional constituency, which in turn is part of the 'safe patriot vote' in the Legislative Council. In other words, the holders of taxi licences, currently valued at HK$7 million apiece, having been co-opted by the Communist Party, are immune from competition and the 21st Century.
In New York City, where taxi medallion holders have not been co-opted by the Chinese Communist Party, the value of their investment peaked a couple of years ago at just over US$1 million. They have since lost 20-25% of their value, according to this, and it's happening in other cities. (Unlike Hong Kong, US cities at least auction additional medallions occasionally.)
The Hong Kong taxi licence holder is the beneficiary of a rigged system. He has bought a bit of paper that allows him to rent a taxi out to drivers. The government keeps these pieces of paper artificially scarce, so he makes a ton of money gouging the drivers and seeing his speculative investment rise in value – while sitting back and not lifting a finger. Our landlords are in a similar position (though their investments are at least homes that someone can live in). You could call them parasites. Economists call it rent-seeking. The Communist Party calls them patriots who love the motherland.
So here's the deal in Hong Kong today: an economic activity must be protected from change, innovators must be denied opportunities, and consumers must be denied better service/value, just so a totalitarian one-party regime can relax and think it has some friends. It's not just taxi licences, of course. Look at the list of functional constituencies and think of all the vested interests that might beg Beijing for protection.
The Standard's Simon Lee concocts a solution to the taxi/Uber dilemma – essentially compensating the speculators who were happy when licences rose in value but are now angry that their monopoly/free-lunch might be over…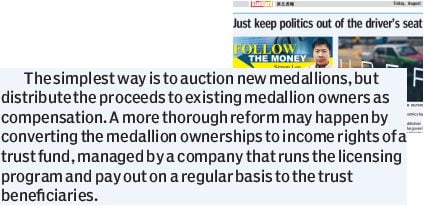 By this reckoning, we should compensate Chow Sang Sang when declining tourist numbers force them to close gold shops. We should set up a special fund to benefit Li Ka-shing if a competition law cuts into his conglomerate's retail profits. (If we were examining the dynamics of the relationships here, if anyone should compensate the taxi licence holders, it should be the Chinese Communist Party.)
Meanwhile, the Hong Kong government is obediently protecting the co-opted taxi licence guys at all costs, arresting Uber staff and angering citizens who want a choice. Maybe this is how it's going to be. If you're an outsider like Ricky Wong who wants to start a TV station, you can't; but if you're a property tycoon and gambling scion, who knows? Maybe when son-of-CY takes office, if you're a patriot who loves the motherland and you want to store tons of sodium cyanide next to Taikoo Shing, you'll be able to do that too. What price do Hong Kong innovators and consumers – the economy – have to pay to keep the CCP feeling secure?
I declare the weekend open with another delightful look (through a grimy car windscreen) at Dr Vienna Lau, the dentist promoting herself and her 'vision, willpower and ample compassion' at considerable expense as something-but-we're-not-sure-what-yet, this time on a minibus. Presumably, it's something to do with November's District Council elections. To our horror, she's doing dogs…