There is organic, gradual change. And then there is systematic rapid destruction. An example of the latter is the incessant tearing-down of authentic Hong Kong. Traditional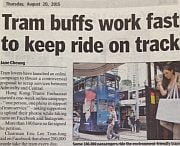 residential neighbourhoods are being flattened and replaced with hotels and malls aimed at tourists. Old trees in streets are chopped down overnight. Some sort of 'consultancy' is suggesting scrapping trams in Central to free up space for (presumably) far more important Alphards and tour buses.
Now even our traditional grotty concrete wastes are under threat. Property cartel pillar New World and accommodating friends in government propose to 'revitalize' the Tsimshatsui waterfront. This once barren and soulless but inoffensive strip became Avenue of Stars, a tacky movie-themed pseudo-attraction. The cheap-looking statues (allegedly) of Bruce Lee and Anita Mui inexplicably draw swarms of Mainland tourists.
By 'revitalizing', the government means shutting the area off for years and putting more fake and ugly clutter in, so New World's adjacent hotel can make more rent from yet more luxury retail outlets. (For an example of how charming it all is, consider that a proposed lame observation deck will be located at a romantic beauty spot called the Hung Hom bypass flyover.) An activist on the radio this morning described the plan as turning the waterfront and related public space from '50% for tourists' to '100% for tourists'.
Not that many people will notice – it's hardly the Louvre – but the HK Museum of Art is also being closed for several years for some sort of 'revitalization'. So if the waterfront plan goes ahead, most of the southern tip of TST will be boarded off for the rest of the decade.
Interestingly, it is not just irrelevant uppity pain-in-the-ass taxpaying citizens who oppose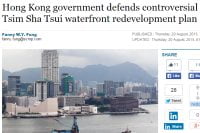 the New World/Leisure and Cultural [sic] Services Dept vision for a utopia of non-stop tourists, concrete and luxury shops. The South China Morning Post reports that other businesses nearby, including the much-cherished Woodlands Restaurant in Wing On Plaza, hate the idea.
The LCSD predictably goes into 'government knows best, public shut up' mode and says it wants to 'enhance cultural ambience' and that current facilities must be replaced as they are aging (good job they're not in charge of the pyramids or Notre Dame). Tellingly, they insist that the proposal 'is not a property or commercial project' and 'complies with principles of openness and fairness', which – without wishing to sound cynical or anything – suggests that this is a classic example of government-tycoon collusion. Specifically, it seems to be about turning Hong Kong public space into Mainland tourist space so one property giant can make more money.
A government that really put Hong Kong first would curb the whole parasitical Mainland (and non-Mainland) tourist/shopper influx, through selective sales taxes, visa restrictions, electric razor wire – whatever it took. This would free up space for breathing, and for a greater diversity of economic activities and opportunities. But that would hurt the big landlords and property players like New World, who were long ago co-opted by the Communist regime in Beijing and whose interests must apparently come before anyone else's. It would also end or slow down the eradication of Hong Kong's unique physical and visual features in favour of plasticky and anonymous Shanghai Pudong/Dubai Airport/Shenzhen cookie-cutter crappiness. And that, too, is looking more and more as if it is a real policy.
In the interests of fairness, a plug for another Indian restaurant on the same floor as Woodlands: Sangeetha…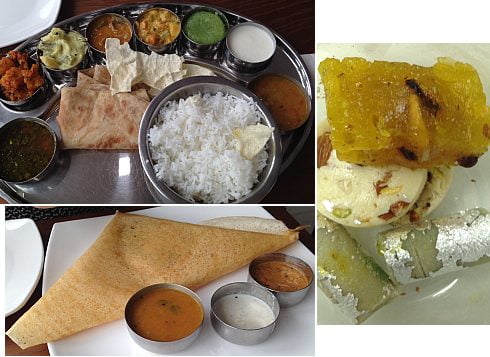 Other food-related news: man who threw egg complains about not having egg.