Nearly a month ago, I noted the unlamented departures of a couple of plasticky Soho restaurants – the Italian one with the name no-one could pronounce, and one we can barely remember but it had some sort of slobby sports-bar concept. Their landlord-fodder replacements have now opened.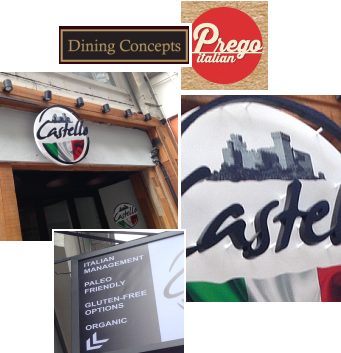 One is an Italian place called 'Prego' which I think has moved from another location nearby as part of the 'musical chairs' circulation of dining places around the neighbourhood. Named for a genre of pornography, apparently, it promises an authentic journey into provincial dining with home-style cooking straight from Mamma's kitchen!
With startling originality, the other is… Italian. At first glance, it seems to be called Costello, as in Abbott and… Which would possibly be amusing as a theme. But closer inspection shows the name to be 'Castello', which the signage suggests might be Italian for 'castle'. The signage hanging overhead claims the establishment to be 'paleo friendly' and to have gluten-free options. Both these fads imply an absence of wheat, which in turn implies an absence of pasta and bread – basics of Italian cuisine. Presumably they will be serving olive-flavoured rice cakes.
As with all Soho restaurants paying idiotic rents to the local landlords, it will be economically impossible for these outlets to offer anything vaguely like value for money. The preference for investors to launch Italian places is probably connected to the fact that Italian means wine, which means big mark-ups, and it means pasta, which also means big mark-ups. This could make the gluten-free/paleo Italian idea a bit of a challenge. A teetotal gluten-free/paleo Italian joint would go bankrupt in days.
I also mentioned the obstruction created by another vacant space…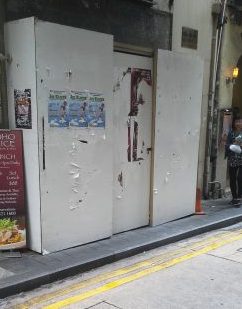 I reported it to the Hong Kong government's Efficiency Unit, using their TellMe@1823 app. I attached the above photo and pointed out that the narrowness of the sidewalk forced pedestrians to walk in the street, which is obviously dangerous. Five weeks after submitting this report, I get the following reply…
…The staff of Buildings Department's term consultant has been assigned to carry out inspection. The inspection revealed that timber hoarding was erected on the pavement outside the aforesaid address.

[quote from Buildings Dept] "…As the timber hoarding was temporary work and there was no imminent danger and serious obstruction to the public, no action will be taken by this Department. We will keep monitoring the situation and should circumstances so require in future, appropriate action will be taken."…
I made this complaint because the app seemed a novelty. I had zero expectation that the civil servants in the Efficiency Unit and beyond would get anything done. But I am still, in my naivety, a bit surprised by the complete absence of initiative, or plain awareness. Someone went to inspect the timber hoarding erected on the pavement and found that it was a timber hoarding erected on the pavement. He then determined that it was not dangerous or a serious obstruction – even though it clearly forces people into the traffic.
My hunch is that the key phrase in the Efficiency Unit's response is 'Buildings Department'. The deputy assistant sub-cretin sent to do the inspection does buildings only; he saw that the hoarding was not about to fall on anyone and kill them, and concluded all was well. If you had asked him whether the hoarding could cause someone walking from, say, Prego to Castello to be hit by a vehicle in the road, he would say that he doesn't do pavements or roads or traffic – that's the job of the Blah Blah Department. And can I have my pension now, please? And the Efficiency Unit's deputy assistant sub-autist passes the message on without questioning anything. (What would an Inefficiency Unit do?) You'd be out the door in minutes if you handled customers like this at a hotel or an airline. Or a Soho restaurant.
And these people wonder why everyone thinks they're a waste of space.