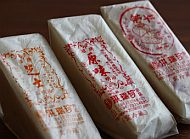 First thing in the morning. I do not want to see the ugly word 'sarnie' in a headline. 'Killer sandwiches on rampage' would have fitted onto the Standard's front page perfectly. Nor do I want to read any reference to 'stool samples'. Just say 'tests'.
However, the news is essentially good: the fad that was Horng Ryen Jen sandwiches comes crashing to the ground in a cloud of salmonella. They will now take their place in the Overhyped Nothingness Hall of Fame.
The big deal was that some famous star was seen with some of these items. Next thing, everyone has to have them.
From a public-health point of view, the mistake was to position the fluffy white bread and icky filling as an alternative to pineapple cake as a gift that you could bring back from Taiwan for your colleagues and friends. Pineapple cakes, individually wrapped, last for weeks or months. Sandwiches made fresh with egg and mayo, become breeding grounds for bacteria after an hour or two at room temperature.
As a branding concept-theme, they were clumsy and unconvincing. The products are a distinctly non-artisanal minimalist version of the ham-and-cheese slices you get in 7-Eleven, which trace their ancestry back to the inventiveness of a gambling-mad English earl, supposedly. There is nothing 'Taiwanese' about them – the idea is just culturally inapt. The retro design of the wrapper is similarly contrived and phony (as in 'Qing Dynasty sandwiches'). The overall impression is of a Taiwanese company opportunistically trying to emulate a Korean level of slick, cool trendiness, and it doesn't work. Taiwan does shabby, ramshackle charm. Stick to your strengths.
(A similar dismal fake marketing concept is IFC Mall's tacky Singaporean 'Tea WG', founded in 2008 with an Olde Worlde logo that says 1837 and other pretentious twaddle. As karma dictates, they were sued by a local and long-established 'TWG' tea company for trade mark infringement.)
And another fad bites the dust… Everyone has known for years that the ever-tedious Shaolin 'monastery' kung-fu theme park much beloved by inadequate Western teenage boys is a sleazy, tawdry money-making scam. But new dirt has come to light about the 'abbot', who it seems is even more of a billionaire Buddhist slime-bag than anyone imagined.
Nasty shallow cynical brands die horrible deaths. It is a good day.