It would be easy to get a bit down about the state of things in Hong Kong. We have water that doesn't damage kids' brains so long as they don't swallow it; Assaulting-Police-With-Breast-Girl getting three months; and even ultra-patriots being treated like dirt. So it's reassuring to see that a couple of today's South China Morning Post columns elegantly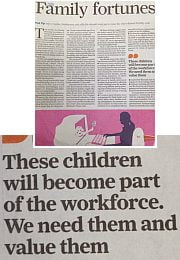 solve some of our most pressing problems, at least after a bit of elaboration.
A professor of social work worries about the city's declining fertility rate. This much-discussed phenomenon affects other Asian societies, like Japan, Korea and Singapore. Each place has at least four of the following five conditions: exhausting, high-pressure rat-race materialist lifestyles; tiny overpriced homes; ultra-competitive education systems; educated women who prefer to have a life rather than marriage; policymakers devoid of imagination.
Is this a looming crisis? The professor invites us to fret about it because we're doomed if we don't have enough workers (it's true for bees, so it must be true for us). And people are 'interestingly' keeping puppy dogs when women should be 'allowed to help solve the problem of our anticipated labour shortfall'…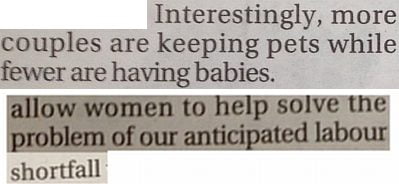 (So logically, what we need is a puppy shortfall!) The professor produces a modest list of very neat solutions…
In order to accomplish these things, Hong Kong would have to make some changes. Cheaper homes mean that people keep more money in their pockets, so property tycoons and landlords get less. Childcare centres, fiscal incentives and better education all require tax revenues to be diverted away from pointless infrastructure projects, thus away from construction interests – including the same property tycoons. Family-friendly working hours and leave arrangements would imply that our archaic, cartelized, rent-seeking businesses give way to modern, innovative wealth-creators, yet again at the expense of the tycoons who infest our politics via functional constituencies, the Liberal Party, etc – which sort of suggests a more representative system of government.
So that's solved. Maybe the professor can expand on how we 'move forward', as the bureaucrats like to say.
Meanwhile the SCMP's 'local cultural critic' Perry Lam tells us that Hong Kong needs to 'understand' what Beijing wants. What does Beijing want? We don't know. But we have to find out. Even though it's 'notoriously difficult'…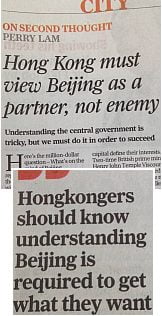 Tragically, the writer lacks the space to enlighten us as to What The Heck It Is That Beijing Actually Wants. Fortunately, I can pick up where he leaves off.
What Beijing wants is: no more independent judiciary, no more free press, no more academic freedom, no more freedom of assembly, no more rule of law and no more elected legislators – all of which are threats to one-party rule, and ultimately incompatible with it. They should be replaced with silence, obedience and loyalty to the Communist Party, and acceptance of a self-selecting corrupt hereditary dictatorship as saviour of the nation.
That's it. Simple. (Only took one paragraph, by the way.)
With so many problems solved, I declare the weekend open with 'Rene Magritte does Hong Kong'…