We all love a good conspiracy theory, so here's one from a highly respected commentator: the Chinese government might have engineered last week's Legislative Council voting farce in order to humiliate Hong Kong Chief Executive CY Leung and chuck him out.
'Beijing to defenestrate CY' is not a new story. Furthermore, the replacement of Tung Chee-hwa with Donald Tsang in 2005 serves as a precedent. In fact, the downfall of the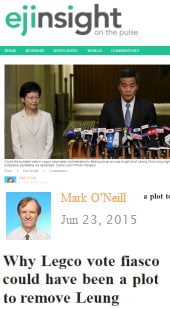 Crop-Haired One has some almost-eerie parallels with today: the huge July 1, 2003 march with the 2014 Umbrella-Occupy sit-ins; the failure of the Article 23 national security law with the failure of the political reform package; and for Twilight Zone fans, the rebellious role played by James Tien and the Liberal Party both times. Cosmic stuff.
Few can doubt that China's leaders will view the Umbrella Revolution and the rejection of the political reform package as a loss of face. Hong Kong authorities enlisted the city's international business organizations and foreign consulates, respectively, to endorse the Chinese government's official line on these issues. The world was watching – and Beijing couldn't get its cosmopolitan financial centre in order.
On top of that, we have to consider the possible role of Zhongnanhai factional intrigue. CY, as a sort-of political protégé of Tung, is part of Jiang Zemin's old sphere of influence, which is out of favour in the Xi Jinping era. And there's the possibility of bureaucratic rivalry. CY is also a creature of the Liaison Office, which had a hand in his stealing of the 2012 'election' from Henry Tang and has since micro-managed the United Front crush-the-democrats campaign that has produced such an anti-Beijing backlash in Hong Kong over the last couple of years. Maybe the conspiracists and plotters are out to get the Liaison Office rather than just hapless CY. Maybe the episode is just a little sideshow in the much bigger Cracking-Up of China.
Of course the notion that Beijing is going to dump CY is entirely believable. No contrived Legco voting walkout disaster is necessary. It should already be obvious that they would only give him a second term if they wanted to take the face-losses to even greater heights, such as riots and a growing independence movement.
One reason to doubt the Legco-vote conspiracy theory is that it involves an even more-shameful public loss of control. To the extent the Legco farce humiliated CY, it humiliated China too. If Beijing wanted to pull the plug on CY with maximum prejudice, they would make it personal – as with Henry Tang's basement, or Bo Xilai's murderous wife.
Finally, how on earth could anyone plan, organize and execute such a chaotic screw-up as the walkout from the chamber to wait for Uncle Fat after voting has started? It would require weeks of rehearsal to choreograph such a sprawling mess, and Oscar-standard acting skills for 31 pro-establishment lawmakers to pretend so convincingly to be clueless idiots. The only way you could do it would be to implant a microchip in each one's brain so they could be controlled remotely.
Hmmm.