So the expectation was that 42 pro-Beijing legislators would vote in favour of Hong Kong's proposed 'quasi-democracy' political reform, while 28 pan-democratic members would vote against. The pro-dems would deprive the constitutional package of the two-thirds majority it needed to pass, but they could be portrayed as villains who thwarted the popular will supposedly represented by the 42. Instead, just as the voting started, most of the pro-Beijing lawmakers rose from their seats and filed out of the chamber, embarking on what would go down in history as the United-Front Turkeys of Zombie-land Death March.
They were attempting to delay things while waiting for the elderly New Territories representative Lau Wong-fat – who rarely shows up – to arrive, as they felt he wouldn't want to miss the vote. Unfortunately, they got things in the wrong order (for future reference, it's supposed to be: walkout before the vote takes place). But not all the pro-government lawmakers went along. The Liberals had been left out of the loop, mainly because the other pro-Beijing people all hate them. (Frankly, who doesn't?)  And a couple of other loyalists stayed behind, apparently uncertain what to do…
It's to do with information overload. The brain seizes up for a few moments while it processes more input than it was designed to handle. You can do this for yourself, with an appropriate subject, as demonstrated here.
The final vote therefore came out as 28 to 8 against the package. The orchestrated pro-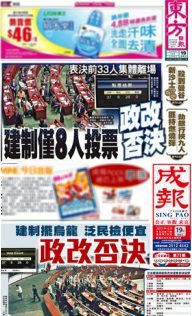 Beijing hate-fest against the evil pan-dems had to be hastily re-scripted to strip out the bits about how 42 obviously morally outweighs the tyranny-of-the-minority 28, who had cruelly denied Hong Kong universal suffrage. Chief Executive CY Leung went sort of Zen on the loyalist lawmakers' disappearance and just savaged the pan-dems.
Most right-thinking people are understandably still collapsing in fits of uncontrollable mirth at this whole absurd hilarity. Serious-minded pan-dems and others meanwhile warn that this is just the beginning of a new era in the fight, and they cannot always rely on circumstance and opponents' incompetence to give them unity and victory. And Beijing officials must be asking whether to finally wise up and try a new approach to Hong Kong, or stick to Communist form and seek murderous bloody revenge against the pro-democrat menace. But before we start to Focus on the Economy and ponder on the profundities of what will happen next, it's worth looking at the 31 pro-government legislators who walked out and asking – what were they thinking?
The 31 include former senior official Regina Ip and rising star Starry Lee, who are both at times mentioned as potential Chief Executive material. They include the pompous great and good of the patriotic community, like Ip Kwok-him and Tam Yiu-chung, and representatives of our oh-so important smug and entitled plutocrats like Abraham Shek and Jeffery Lam. And they include venomous attack dogs like Priscilla Leung and self-styled thinking moderates like Michael Tien. Having received medals and appointments in return for shoe-shining, they strut around apparently believing in their own superiority – over pro-democrat politicians and over the rest of the populace. And now we see: they can't even push a button at the right time.
One of their number called the walkout 'a stupid and careless mistake'. But only individuals make stupid and careless mistakes. Even 31 sheep would probably not all simultaneously make the same 'stupid and careless mistake'. The loyalists who walked out are, we can only conclude, obedient, unthinking, slavish, unaware – useful idiots to a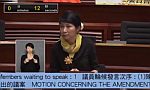 Leninist machine, but probably not worth listening to about anything, and certainly unfit for public office. That was Beijing's leadership material in action.
I declare the weekend open with yesterday's lesson: while exasperating at times, the pro-dems at least have their own minds and souls and the freedom to use them.