Exactly on-time, the open-topped bus careened onto Smithfield and sped 50 yards up to the MTR station, as advertised. At the corner where the protesters were gathered, it turned a sharp right and accelerated away towards the steamy sub-tropical greenery of the far western tip of Hong Kong Island where Kennedy Town ends. The vehicle was in view for 10 seconds at most. Some nonplussed bystanders subsequently claimed to have seen people waving from the top deck, but others weren't sure.
The pro-democracy demonstrators had surged forward with their yellow umbrellas as the bus approached, and ranks of valiant police struggled to hold them back. But when the double-decker sped instantly away in a cloud of dust, the shoving died down briefly – as if everyone was surprised and uncertain what to do. Then the pushing and shouting resumed.
The plan was for Chief Secretary Carrie Lam and her colleagues to promote the Chinese government's model of quasi-democracy in Hong Kong by engaging with the community. While I waited for the bus to return, I dropped into the local branch of quirky food store 759. To my delight, I found they once again had the mega-giant chocolate marzipan bars (virtually free at HK$10.80, or something), and I bought a moderately ample quantity. I also noticed a range of cookies under the label 'Euro Cake', which struck me as a distinctly unlovely and unappealing brand name…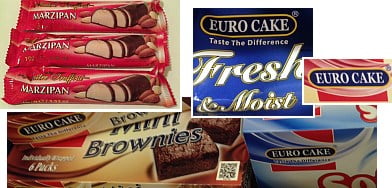 'Taste the Difference', 'Fresh & Moist'. If this seemed like a failure of marketing and

communication, worse was to come. Outside, an elderly lady in a free T-shirt from what seemed to be a neighbourhood Chiuchow group presented me with government leaflets and a free pen. 'Pocket it first' it said on the leaflet, while the pen urges us to 'talk and achieve universal suffrage'. Even Euro Cake's ad agency could do a better job of selling this political reform package.
Carrie's bus had not come back. The cops were arresting a couple of protestors – a young woman, who apparently needed some restraining, and a guy who seemed more laid back.
To pass the time, I dropped into a poky little Buddhist snack place. Among the fare on offer was vegetarian pig-intestine spring rolls. What a product concept! In theory, serious carnivores will object to it because the supposed meat content is just tofu, while squeamish namby-pamby types will recoil in horror at the very idea of hog offal. But after the first bite, and you find it's pretty good, it should be more than acceptable to anyone and everyone. The parallels between these items and the government's political reform proposals are obviously not exact, but it does remind us that you can put a positive spin on a lot of things, and how badly officials have failed to come up with even a vaguely convincing message to sell the proposed reforms.
Back on the street, and still no sign of the Carrie Bus. Opposite the pro-dem crowd, a small group of pro-Beijing loyalists shouted 'one person, one vote' repeatedly through a megaphone. Is there anything more off-putting than these grim, cantankerous and, frankly, uneducated losers? If they were offering chocolate marzipan bars, you'd still run away.
It is not impossible that Xi Jinping's purging, controlling, quasi-neo-Maoist regime would prefer to see the Hong Kong political reform package fail. They could cast the pro-democracy lawmakers as the bad guys. And the one-party system could carry on just deciding the 'winner' of the Chief Executive 'election' in advance rather than go through the messy business of rigging a ballot, and the psychologically harrowing process of letting the people – even symbolically – make the final decision. If Beijing wants the package to fail, the farcical open-top bus parade was a good way to make it happen. But farcical open-top bus parades are a time-honoured way for the Hong Kong establishment to try to reach out to the community, as we have seen with past campaigns (Henry Tang for CE, among others); our bureaucrats think it works, though Beijing's officials pulling the strings are probably smarter.
But it could be that Xi Jinping's people recognize that Hong Kong will be more trouble in its own little way without some sort of change to the political process, and so really want the reforms to go through. If so, rather than wave from a bus as it zips through minor districts, Carrie or someone could make a show of coming clean and leveling with us. She could indicate that even this degree of loosening – letting the electorate choose from three hand-picked stooges – makes the Communist Party nervous. She could point out that the national leadership is worried about what residents of Mainland cities will think about the precedent set by Hong Kong. She could predict that even a restricted race would create enough competitive pressures to reduce the tycoons' influence over government, which would surely clinch it for a decisive chunk of 'pragmatic' public opinion.
Meanwhile, the bus was (or represents) either a smart approach to getting the reform package to fail, or a really dumb attempt to get it passed. And we can't be sure which.