I leave this city for a few days and all hell breaks loose as people who should know better indulge in blatant stupidity.
First, lawmaker Regina Ip feels a need to wade into a subject no-one really wants to think (or cares) about: adulterous goings-on between employers and staff. But not just any such hanky-panky. Specifically, the aspiring Chief Executive pronounces on white married guys in Discovery Bay being bedded by nubile gold-digging Filipino maids.
Why? Why write a newspaper column – in a Chinese-language paper – about such an icky, obscure, banal non-issue? Does she imagine that Hong Kong people will read her warnings about this evil in our midst (or in Disco Bay, at least), and vote for her? Regina for CE – she'll get tough on expat guys having sex with Southeast Asian women, because that's Hong Kong's biggest problem.
Considering they are the most helpless, vulnerable and victimized members of our community, migrant domestic workers and their supporters do a pretty good job of mercilessly bludgeoning and humiliating anyone suspected of mistreating or simply dissing them. And sure enough, Regina is getting the full treatment, complete with placards portraying her as Hitler. She is now mewling about how it's a 'misunderstanding' – the classic euphemism for deliberate but now sorely regretted idiocy.
What this tells us about Regina is that she is a bit cut off from real life. There must be a dozen divorce lawyers in town making a living just off the Cathay Pacific pilots who dump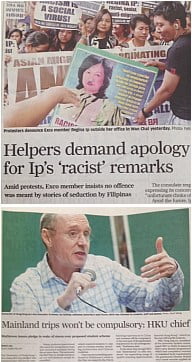 their wives for the amah. I hate to think how she would react if she learned what the other 6.999 million of us already know about the philandering of some of our tycoons.
Second, some Deputy Assistant Vice Sub-Supremo at Hong Kong University announces the sort of marketing gimmick popular among educational institutions today: come to HKU and we throw in a 'China experience' that you can put on your resume. Pretty standard stuff, you might think. It's a wonder they hadn't done it before.
But no. Apparently unaware of anything happening since last August in Hong Kong outside the ivy-clad ivory towers of Pokfulam, the university manages to present the brand-enhancing promo as a Compulsory Communist Brainwashing Mainlandization Doom Course, complete with a breathtakingly clueless challenge along the lines of "If you don't want to be subjected to Mao-thought propaganda struggle-sessions, go to one of the 10,000 other universities in the world desperate for your tuition fees."
The professors and chancellors and pro-vice whatevers could argue that their innocent announcement of the university's Special Offer was twisted into a horror story by Hong Kong's shallow and alarmist media. But these people are supposed to be brainy, and capable of anticipating obvious and predictable things, which is presumably why they are just backtracking and groveling and claiming that in fact they meant the exact opposite of what they said.
To the extent that anyone cares about self-absorbed seats of learning, we are left with the unfortunate impression that HKU panicked about pro-Beijing criticism of its academics' pro-democracy activities and imagined that introducing a lame Mainland exchange requirement for undergrads would put things right. Obviously, with their PhDs and everything, they can't be that simple-minded. (They have an author of brilliant books up there called Frank Dikotter who could tell them all they need to know about how the Communist Party works.)
At a time when the press and judiciary as well as academia are under fire from malevolent pro-Beijing forces, HKU should be self-confident and assertive in their message management rather than going for the pitiful pre-emptive kowtow by awkwardly grinning gwailos mesmerized by the China Thing. For example – to pluck an idea out of thin air – they could quietly drop hints of contingency plans to relocate to Taiwan if Communist tyrants come anywhere near their liberal values and academic freedom.
Which bring us rather neatly to the renegade province, where I spent a wonderful few days, apart from being hurled (slightly) across my hotel room by an earthquake…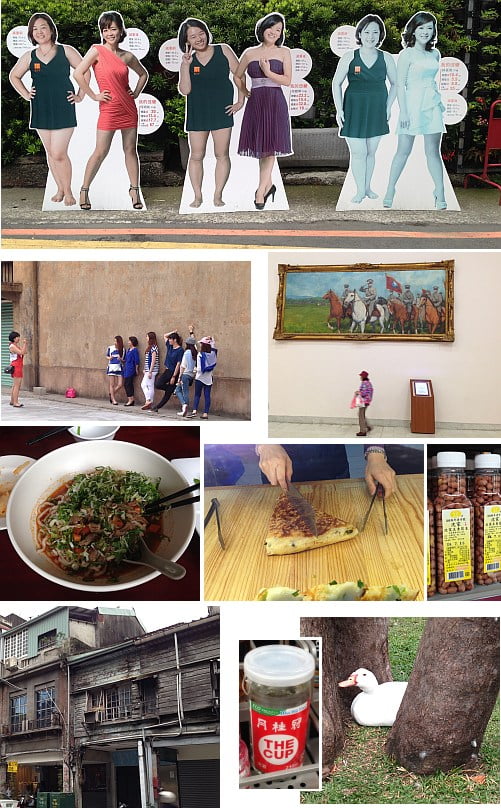 I declare the weekend open with a tribute to the museum in Tamsui dedicated to a 19th Century Christian missionary from Canada who wandered around the savage regions of Formosa pulling the aboriginal people's teeth out…