To most Hong Kong residents, less tourism means relief from crowds and retail market distortions. But to the government and its friends, the recent pattern of declining tourist numbers is a cause for alarm.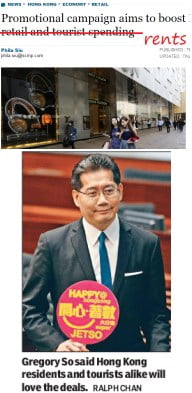 The response: a hyped-up exciting promotion! Commerce Secretary Greg So does his hunky sex-symbol act and unveils the 'HAPPY@Hongkong Super JETSO' campaign. According to the official blurb, 10,000 merchants will be offering special deals in order to encourage locals and tourists to Spend Spend Spend.
As you might suspect from the campaign's 'HAPPY@Hongkong Super JETSO' name, this is desperate and tawdry. Cosmetics chain Sa Sa will give out HK$30 coupons to customers spending over HK$100. Some restaurants are offering 'buy two, get one' deals on buffets.
No wonder Greg looks uneasy. This is downright tacky. The very phrase 'coupons' brings to mind visions of welfare mothers cutting little squares out of newspapers. Who – in a developed, high-tech, First World, services-based economy – will buy some everyday and unremarkable item because it's 15% off? Fifteen percent? It's an insult. Do we really look that impoverished? As the moderate voice of reason tells the Standard, an ice cream in exchange for going to (indeed, spending money in) Times Square is 'not really attractive'…

…as in 'that is as enticing as a pile of dog droppings'.
To put this in context, chains of watch shops with several branches on the same street are trimming back operations. I would love to believe the anti-smuggling protests are responsible, but bigger forces are at play. Exchange-rate changes and China's anti-corruption clampdown for a start. Possibly a gradual change in tastes, as Mainlanders start to graduate from the 'rich-peasant' phase of high-profile garish consumerism and move onto something more refined. And also, not least, over-expansion by the luxury-goods industry, mesmerized by the promise of a billion Chinese all eager to buy putrid-looking

overpriced rubbish with stupid European names. There has to be a limit. How many Jaegar-LeCoultre, Longchamp Louboutins does an idiot from Shanghai really need?
Finally, the laws of supply and demand really start to bite when greasy-haired Mr Hong Kong Landlord, drunk on the flood of fast easy quick money money money, slaps one zero too many on the latest rent-hike. The guy suddenly faces the unthinkable inhumanity of empty premises for which no-one will offer HK$300,000 a month, for some inexplicable reason.
Ultimately, this is what Hong Kong's 'tourism' industry – also sometimes known as the 'retail' industry – is about: rents. It's actually the landlord industry. This is the 'HAPPY@Hongkong Super WHACK RENTS UP' campaign.
But… Even by the standards of HK Tourism Board activities, this promotion has an exceptional lameness about it. My hunch is that someone, somewhere is growing weary of the 'tourism' cult. (Maybe Beijing's local Liaison Office? They see public resentment of Mainland shoppers as a threat to the motherland. And they know the Central Government is serious about corruption and money laundering, and happy to see Macau casinos' revenues plummet.)
The hapless look on Greg So's face. The unfathomably, gut-wrenchingly atrocious 'HAPPY@Hongkong Super JETSO' theme concept title and branding. The officials seem to be going through the motions of 'boosting tourism' here, with little enthusiasm save for the chance to have another dig at the horrific damage done by pro-dem and anti-locust protests. The retailers themselves show every sign of having been roped into this by bossy bureaucrats. When you're paying the likes of Jimmy Tang HK$300,000 a month for 300 square feet, offering meaningful discounts is a non-starter. The whole thing looks like a way to shut the landlords up, and pretend you're trying to keep rent-rises going for all eternity, as we enter the inevitable post-Mainlander Luxury Crap Mega-Boom era and go back to the days of 2011 or so when you have only one branch of Sa Sa every 100 yards.
I declare the weekend open with some advice: if you must go out and spend money, I can recommend this stuff…