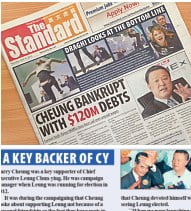 The Standard puts the bankruptcy of Barry Cheung on the front page. Most other papers do not, because – well, it's a slightly gloomy human-interest story and little else.
As well as occupying various public-service positions like Chairman of the Urban Renewal Authority, Cheung set up the Hong Kong Mercantile Exchange in 2008. The idea was that Hong Kong would become a mega whizz-bang hub-zone epicenter for commodities futures trading. The sort of people who raved about the city being a mega whizz-bang hub for bonds, Islamic banking and other desperate-sounding concepts jumped up and down in excitement. Maybe they overestimated demand for such a platform. Maybe they were counting on Beijing to support the project and send business its way. Maybe it was hubris. Anyway, after failing to attract serious trading and hosting some sort of alleged financial irregularities hoo-hah, it failed.
Barry Cheung was also a key backer of CY Leung. It is worth remembering that back in 2011, when it was obvious that Beijing would be making rich-kid politician Henry Tang Chief Executive, openly backing CY was a daring and risky thing to do. To Hong Kong's establishment, CY was a mystery. About the only thing anyone knew about him was that he didn't have any friends.
Another early supporter of CY was National People's Congress Deputy and former top

bureaucrat Fanny Law. Like Barry, she was subsequently appointed to CY's Executive Council – and there she remains, focused on saying all the right anti-dem things and keeping out of trouble. Other members of CY's little 'alternative establishment' were not so fortunate. Former financial analyst and land/population policy freak Franklin Lam joined and later left the Executive Council after a conflict-of-interest thing that was basically trivial but embarrassing to the administration at a time of incessant mini-scandals among government officials. More humiliating was pro-Beijing businessman Lew Mon-hong, who attended an early CY campaign function with an alleged triad member; he was later arrested by anti-graft cops and is now an angry critic of CY (and currently on trial).
These were CY's main 'friends'. A handful of other people had endorsed him, but with restraint. When Beijing abandoned Henry Tang at the last minute in 2012 and ordered its inbuilt majority on the Election Committee to 'elect' CY, most traditional pro-establishment tycoon-types were too numb with shock to say anything. Only a few had the wits to indulge in quick, shameless, pre-emptive shoe-shining in an attempt to grovel their way into the outsider-administration's good books – the best example being property tycoon Henry Cheng. But these were Johnny-come-latelys.
Now mostly fallen by the wayside, CY's original support group was small and patchy from the start. Barry Cheung and Franklin Lam probably saw the outsider-underdog as a breath of fresh air or even a sign of hope that Hong Kong could move beyond semi-feudal dominance by landed interests. For Fanny Law, it may have been more opportunistic – a nothing-to-lose roll of the dice on the off-chance it could lead to a (the?) top job in time. For 'Dream Bear' Lew, it seems the attraction was a bauble in the form of an Executive Council seat that he never got, and maybe some behind-the-scenes string-pulling capacity, which hasn't worked out either.
CY Leung has no further need of a local power base. His authority comes from the top down, from the Liaison Office and the Xi Jinping regime. From the barrel of a gun. The traditional bureaucrat-tycoon establishment that flourished under Chief Executive Donald Tsang 'supports' CY only under orders from Beijing. To the Standard's tycoon owner, highlighting Barry Cheung's bankruptcy is an irresistible and vengeful swipe.