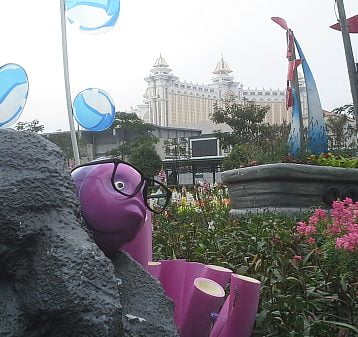 To Macau, to see first-hand what a 50% year-on-year fall in casino revenues looks like up-close.
While busy, the Sheung Wan ferry terminal is not at bursting point the way it often has been on Saturday mornings in the last, say, five years or so, though there are lengthy lines of Mainland package-tour inmates waiting for cheapo stand-by seats. (Whatever happened to the groups of morose-looking Korean and Japanese golf victims who used to clog up the space near the ticket counters while waiting to go to Mission Hills?) At the Macau end, the terminal is uncrowded and the lines at immigration almost non-existent. Impressionistic conclusions: ferry operators are using their smaller vessels and/or cutting sailing frequencies, and selling off spare inventory cheap; the Macau authorities have failed to plan for falling visitor numbers and are assigning too many passport-checkers.
Time spent to board a free shuttle bus for the tacky casino closest to my destination: a bare minute. A stroll the length and breadth of the vast gambling hall at the Galaxy reveals a lot of unoccupied tables, and a gloomy abandoned section roped off at the back – possibly a tenth of the total area. As the Bloomberg report puts it, this can make the casino floor "look empty and lack energy…" Inescapable conclusion: a marked drop in the number of people in the casino. This could be simply because more casinos have been opening. And it could be something to do with Chinese New Year, which distorts tourist and other behaviour. But given the gradual decline in revenues reported over many months now, it looks like a genuine contraction in the whole Macau-tourist-gambler inundation. To bolster this impression, the 'gaming' industry is blaming Macau's new (unenforced) no-smoking laws – which sounds as desperate as the Hong Kong retail-landlord-vampire complex whining about the Umbrella movement damaging sales of luxury tat.
From the Galaxy, it's a 10-minute stroll to Taipa village. This is actually a touristy spot, but after the overwhelming glitz and fakery of the extracting-cash-from-cretins casino, it seems an untouched rural idyll. As if urban planners had acquired souls, just one street on the far edge of the settlement is devoted to the Mainland tourist/shopper. Yes, it is crowded with visitors buying the compulsory almond cakes, barbecued pork and milk powder from shops festooned with flashing lights. But the rest of the village is untouched by the scourge, and left for the local kids on bikes, Japanese with selfie-sticks, arty-crafty stores and vaguely traditional restaurants. This is not humane planning, just plain market forces producing a clustering effect – one that confines the Mainland-shopper monster to a specific and relatively small space. Conclusion: Mainland-shopper numbers are peaking or have peaked (for now, anyway).
(As a public service, some restaurant recommendations appear below.)
In downtown Macau, the main Avenue de Almeida Ribeiro drag remains chock-a-block with tired huddled masses of Mainland suitcase-draggers. How many branches of Chow Tai Fook jewellery can you cram into one street? I counted seven before giving up. (It seems they specialize: one for watches, one for necklaces, one for rings, etc.) Only a fool would bother coming here except in transit, but even so the signs are slightly
encouraging. The Largo do Senado-St Paul's ruins area is not at the saturation point considered normal over the last few years. And, as with Taipa village, the sprawl of brand-names and locust-goodies comes to an abrupt end once you step into many of the side-streets on the periphery. Just yards from neon-splattered showcases of tiaras, you're plunged into some unlit, grimy, slum rodent-land last subject to civil administration back in the 1920s. Macau comes in two states: gaudy, fake, plastic crap for Mainlanders, and Third-World-with-extra-dilapidation for the locals.
Meanwhile, back in civilization, Yuen Long becomes the latest site for anti-smuggling – or basic pro-Hongkonger – protests. The pro-landlord/developer Standard reports the conflict as one between local residents who love the shoppers and radical outsider nihilist loons. While the news report is wishful thinking, the paper's editorial hints at facts, admitting that the Mainland-shopper influx really is reaching crisis point (ie, officials notice).
Long-term, maybe Macau and Hong Kong will still be zoned as Middle-Kingdom Monaco, where the natives are to be shoved aside for money-laundering billionaire princelings and shopping malls. Right now, however, the Chinese Communist Party has other priorities. Xi Jinping's clampdown on corruption, designed to save the one-party state's skin, really seems to be translating into fewer gamblers and luxury shoppers in Macau. In Hong Kong, the 'parallel traders' phenomenon is provoking what Communist paranoids perceive as secessionism. Fingers crossed – the wretched 'tourism' tide may be turning in both cities.
Briefly – Google for details – I can recommend: O Lopes (Portuguese, Taipa); Dom Galo (Portuguese, Avenida Sir Anders Ljungstedt, Macau); and Lou Lan (Islamic Halal Xinjiang etc, Rua Cinco du Outubro, Macau). Also, back in Hong Kong, Oh Food (Arab, Wanchai).