China Daily had a front-page linguistic lapse a few days ago. The Oscars, its headline said,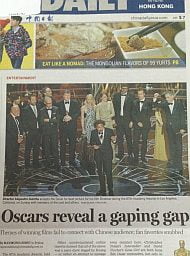 revealed a 'gaping gap'. Personally, I don't mind gaping gaps – it's the non-gaping ones that confuse me.
The grim gripping gaping gap gripe was one of those curious state-media whiny things – self-pitying and ethnocentric yet implicitly Western-worshipping, all in one. A Chinese actress was supposed to walk upon a red carpet at the Oscars, but did not; also her wardrobe was stolen. The Motherland is miffed. To add insult to injury, the insensitive and Sinophobic American movie awards' judges had ignored Mainland audiences' most revered work of cinematic art, namely Transformers.
Despite trying desperately to avoid and ignore the intense tedium of the awards ceremony, I couldn't help but notice the name of the winning film: Birdman. Never heard of it. From what I could briefly gather, it takes place in a theatre, a guy dressed as a bird walks around the streets, and it otherwise sounds incomprehensible.
Oddly, I had already seen another award winning movie: Boyhood. The Big Deal about this film is that it was produced in real time, over 12 years of the actors' lives, so they actually age.
Think what could have gone wrong – the player of a key character could have been fatally run over by a bus halfway through. As it is, I'm certain the kid's sister is replaced by a fat understudy for a few scenes in the middle, but then maybe the girl concerned had some sort of real-life temporary adolescent weight-gain trauma. Also of interest is the way the script must have been written along the way to incorporate contemporary events (Iraq, Obama 2008).
It is a long film. The first half is brilliant and includes divorcing parents and other horrors adults inadvertently inflict on helpless kids who miraculously come out of it not too messed up. The second half is an extended trip to Stroppy Teenager Land and could be skipped.

On the subject of front pages… Many, many years ago I worked in a political/economic consulting and publishing company. One morning, Senior Editor Boss Woman stormed angrily into the office I shared with a couple of other minions. She slammed a freshly printed newsletter down on someone's desk. "Major screw-up on page one!" she half-screamed, half-spat. Then she marched out in search of a secretary to strangle. Everyone scrutinized the newsletter line by line to find the disgraceful error. Eventually, someone found it: a misplaced comma (or it could have been an unnoticeable misspelling of some Thai minister's multi-syllabic name).
Anyway, it gives me great pleasure to declare the weekend open by naming today's South China Morning Post as the Major Screw-Up on Page One of the Week winner. On a riveting map showing sites in Hong Kong earmarked for residential development, the paper locates bustling Fa Peng Road, Cheung Chau in the jungle-wastelands of southern Lamma…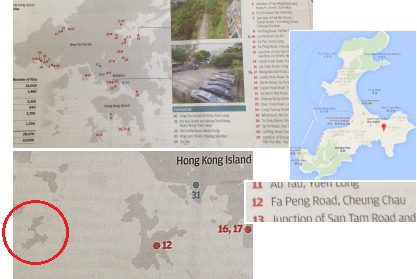 Easy mistake to make, I'm sure. Could have put it on Peng Chau as well – all these tombolos look the same, don't they?