The White Queen famously claimed to believe up to six impossible things before breakfast. It's not as hard as it sounds – simply flick through the Hong Kong news…
A bunch of Hong Kong street racers are arrested over the border for speeding. The background to this is rather sad. To compensate for their limited penile dimensions and other self-perceived physical and mental shortcomings, some men own expensive and usually ugly sports cars. (There was a time when designers of such machines had a sense of aesthetics, even artistry, but no more.) In exceptionally tragic cases, the vehicle is yellow or a sort of cheesy-vomit orange. Let off with a slap on the wrist, one of the inadequates claims that they couldn't help breaking the speed limit…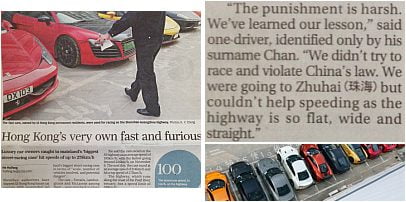 '…because the highway was so flat, wide and straight'.
Consider the laws of physics rewritten.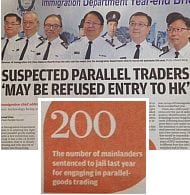 We move on to the Hong Kong government, and the latest in a recent flurry of official assurances that the authorities are taking firm action against the cross-border smugglers making life in New Territories towns unbearable. The Immigration Department is doing all sorts of things to fight the menace, like drawing up a big, tough list of suspects who might be barred from entering Hong Kong, and jailing a whole 200 perpetrators per, well, year. With so much action being taken, surely residents must be happy again now.
Officials have also noticed that exploitation and abuse of foreign workers in Hong Kong seems, if anything, to be getting worse. Consider high-profile horror stories like that of Indonesian domestic helper Erwiana and an earlier one about a maid whose employers saw fit to tie her to a chair when they went away. The solution: a press release saying migrant workers'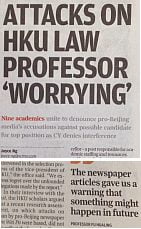 rights are fine and dandy. And that's another problem solved.
Wen Wei Po, a newspaper that is essentially an arm of Beijing, has recently mounted a campaign of character assassination and smears against Hong Kong University law professor Johannes Chan. Pro-democrats have reacted with their usual outrage and visible signs of trepidation (just as the Communist Party wants – mockery and a shrug would be better). Academics allege that local officials have joined behind-the-scenes pressuring to make sure Chan is not appointed Pro Vice-Chancellor. The Chief Executive's office issues a bland statement insisting that it has done no such thing. What a relief – I would hate to think our leaders could really get involved in such heavy handed and surely counterproductive idiocy.
Now here's a headline that catches the eye…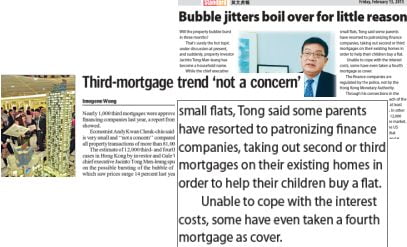 'Third-mortgage trend not a concern'. A real-estate investor claims that some 12,000 fourth mortgages have flowed into Hong Kong's ever-rising property market. Yes fourth, as in the number 4. Others dispute this (and being a participant himself, and this report being in the Standard, there could be an agenda here). So let's say for the sake of argument that we need only talk about third mortgages. Sounds pretty scary: people doubling or trebling up their debt with non-bank lenders, backed by whatever collateral at whatever interest rate, so their kids can get into the ever-skyrocketing can't-lose HK$3.5-million 270-sq-ft rabbit hutch game. But it's 'not a concern'. Phew.
I declare the weekend open with the sixth impossible thing to believe before breakfast: that there is no sixth impossible thing.