It's been a while since Hong Kong had a big juicy financial rip-off scandal (as opposed to minor day-to-day ones). The last serious case was the Lehmans Minibonds saga of 2008 onwards, in which local retail banks sold derivatives designed for institutional investors to aging and illiterate customers. The investors lost everything when the US investment bank and issuer imploded. The Hong Kong authorities bullied the local banks into compensating the victims, who in the admirable manner of the city's downtrodden elderly and frail, had embarked on a deafening campaign of moral blackmail, besieging bank branches and banging drums. Banks must now record conversations with clients and make them sign tons of paperwork before letting them near many investment products.
This time it's Bitcoin. Investors (if that's the right word) with MyCoin claim to have lost HK$3 billion. The Bitcoin-trading company looked well-organized at first in its marketing activities, but it now seems it was a multi-level, Ponzi-type scam from the start.
Bitcoin is outside the normal financial universe and is not subject to government regulation (our Monetary Authority warned people away and disclaimed any role in overseeing it). It is a virtual or quasi-currency, and the big deal is that it is supposed to be more secure or somehow superior to the paper stuff printed by nasty governments. It is issued following a process that sounds ludicrous: 'mining' by solving complex mathematical problems with computers. The problem-solving contributes to the system of authenticating Bitcoin for use in transactions, which take place only on-line.
Bitcoin is not created by any government or backed by anything. This seems to make it trendy and symbolically alluring for members of a sort of cyber-libertarian-chic sub-culture (think teenagers who hero-worship Julian Assange or Edward Snowden a bit too much, style themselves 'anarcho-capitalist', and perhaps read Neal Stephenson). Like gold, it also appeals to the skeptical/paranoid who live in fear of 'fiat' currency and see the US Dollar as doomed to fizzle away into nothing. In practical terms, Bitcoin is supposedly hidden from the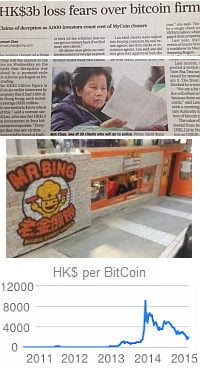 authorities, which adds to the anti-state thrill, but also of course makes it a perfect means of exchange for drug dealers and other law-breakers.
The only time I recall seeing Bitcoin potentially in use up close was at Mr Bing, the purveyor of excellent Beijing-style crepes with outlets in Wanchai and Central. It had a Bitcoin ATM, and welcomed payment in the quasi-currency. Mr Bing's outlets closed down a few months back. The sign in the old Central branch says it is undergoing renovation – as does the sign at MyCoin's Tsimshatsui office, according to the Standard. This may mean nothing.
We will now see how Hong Kong's grandmothers and property-mortgagers got roped into MyCoin. We will all be amazed to learn that, along with gullibility, real-estate and insurance agents seem to have played a role. And it is unlikely the government can do anything to arrange compensation. With Lehmans Minibonds, the vendors had broken no law yet still had to pay the penalty; this time, it looks like crooks were at work and have long vanished.
It would be interesting to know whether Bitcoin plays a part in the laundering of Mainland money. And to see what sort of too-late-now action the Hong Kong authorities take in response to the MyCoin affair. Meanwhile, more than ever, I will be waiting for a convincing reason why normal, well-adjusted non-criminals who are not part of the fashionable cyber-hipster milieu will need or want anything to with Bitcoin.