There is something not right this Monday morning. Normally, I step out onto a silent and empty street, with only the warm welcoming glow of the 7-Eleven on the corner offering any sign of life. Today, dawn finds the neighbourhood's Western-style bar-restaurants as open and crowded and raucous as on a Friday evening.
It's the Super Bowl – one of those rituals everyone gets tremendously excited about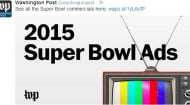 because they're supposed to get tremendously excited about it. One third of all Americans sit and watch the broadcast. It is of course an excuse for a party. A special sort of party where people come together to stare at the TV. In an attempt to bring meaning to the occasion, everyone pretends to be intrigued by the amount spent by the biggest advertiser.
On a different plain of pretense, of course, everyone is in theory there to watch the game. Football: all the waiting-for-something-to-happen of cricket, combined with all the invisible-thing-briefly-happened-in-corner-of-screen of golf. Strange how something so mind-numbing to watch can nonetheless cause brain-damage in players. Why not watch boxing, where other people's head traumas are at least exciting?
But let's put it another way: two thirds of all Americans are doing something else. And, unlike those in Hong Kong, they don't have to drag themselves out of bed at some crazy hour to do it.
Passing the local Super Bowl fans loudly swigging their orange juices and coffee ahead of a long day still to come in the office, I grab a newspaper and see…

Former Security Secretary Regina Ip hints at taking part in the Chief Executive election in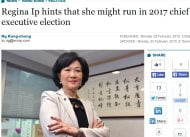 2017. Any comparison is tortured, but since we're discussing things American, it's interesting to note that Mitt Romney and Sarah Palin have both pretty much abandoned hope of going for the Republican nomination in the 2016 Presidential race. Romney has too much out-of-touch elitist baggage, while Palin's idiocy-as-populism thing is finally passé. Regina is (in a Hong Kong context) trying to re-invent herself from the former to the latter. Everyone must know that, however the 2017 selection process works, this is doomed to embarrassing failure – except, of course, her. A well-trodden hubristic course: from take-self-too-seriously, all the way to flat-on-face. Should be entertaining, at least.