The Hong Kong Army Cadets, a semi-fictitious and barely existent youth organization that appeared out of nowhere over the weekend, continues to vex.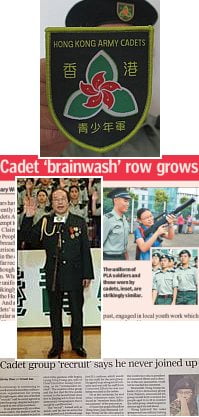 To pro-democrats – and probably most of Hong Kong's silent majority/fence-sitting residents – the group's PLA-flavoured militarism is alien and even disturbing. And it naturally offers critics a rich opportunity to accuse the government of attempts to brainwash kids.
Civic Party legislator Kenneth Chan calls it 'camouflage for indoctrination'. But the junior soldiers' green tunics are not intended to hide the Hong Kong leadership's determination to convert the city's youth into Communist-adoring patriotic Chinese. It is intended to highlight it – and indeed to exaggerate it – for the benefit of big boss Xi Jinping's hardline regime in Beijing, on its nationwide mission to petrify cadres at every level. You could almost say the idea is to brainwash Beijing into thinking we're brainwashing Hong Kong.
We can be pretty certain about this because of just one thing: Education Secretary Eddie Ng in an army uniform. To even the most scowling, Maoist, Leftist, patriotic loyalist in Hong Kong, the vision of Eddie as a war-hardened military man is so laughable and ridiculous that you can only conclude this is a joke. In Beijing, of course, where they have been demonizing our education bureaucracy by name, they won't get it – they'll think we're serious.
I wondered yesterday how a youth organization can spontaneously come into existence from nothing complete with massed ranks of members. The South China Morning Post reports that the kids were (surprise and shock!) more or less tricked into taking part. Or to be more accurate, the paper reports that an 'online news outlet' reports it. That would be the Epoch Times, run by the deranged Falun Gong quasi-Buddhist loons, and not the most reliable source around – but better than nothing. It makes sense: the marching teens didn't have that bussed-in-Mainlander look about them.
To the Hong Kong government, the Big Lychee Youth Militia Brigade is, on average, a bit of an embarrassment. Chief Executive CY Leung, fresh from publicly scourging obscure student publications discussing local autonomy, is obviously unapologetic, and maybe oblivious that the public might feel anything is amiss. Eddie would probably like to crawl off into a dark corner and die. The rest of the administration would be somewhere in between, hitting the Quaaludes.
The international media are besmirching Hong Kong's reputation by saying the Fragrant Harbour Red Detachment of Kiddies is open to anyone over the age of six. This is untrue. The rules clearly state that you must be "over the age of six years…

…and of good character." So there. No bad elements from the wrong sort of kindergarten, please.
Although clumsy, such attempts to impress Beijing are bound to increase suspicion and fear in Hong Kong. And that points to growing opposition to the local and central governments.
It's a crowded field, but another pro-democracy group has just been launched. There are so many now that branding and differentiation are becoming a problem. So don't confuse the newcomers with Hong Kong 2020, which is for moderate old folks. And don't muddle them with Vision 2047, (nope, never heard of them before either), which seems to be a front for the local chapter of the Dornford Yates Re-creation Society. Behold, 2047 HK Monitor (along with add-on 2047 HK Finance Monitor because, hey, otherwise it would be simple and easy to understand).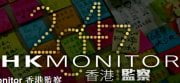 There is a niche for this lot (financial and other professionals of repute, including Edward Chin, David Webb, Sing Ming and Ching Cheong). Their presentation yesterday (bits here) covered several areas, but perhaps the key bit is the relationship between democracy and a sound economy.
Hong Kong's active pro-democrats are mostly woefully unqualified to discuss anything to do with business and economics, while many senior business and finance figures have investments in the Mainland and keep quiet or stick to the pro-Beijing line. After years of co-opting tycoons and talking jargon pro-dem politicians can't understand, the Hong Kong establishment has successfully propagated various self-serving myths about the economy and politics.
In short: many if not most people in Hong Kong have a vague perception that democracy might not be entirely compatible with economic prosperity. Certainly, the 2047 HK Monitor idea that a more representative government means a more vibrant and fairer economy is not only counter-intuitive for much of the community but radical and a revelation. For tycoon-bureaucrat vested interests, this is dangerous.
The South China Morning Post and Standard completely ignore yesterday's 2047 HK Monitor launch.