Welcome to Keelung…
The first time I ever visited Taiwan, the place was emerging from decades of dictatorship. Compared with Hong Kong it was grim and colourless, and even kids' school uniforms had an oppressive police-state look about them. Nowadays the country is full of democracy, freedom, trendy coffee shops and creative arty cultural scenes. With Beijing taming and muzzling Hong Kong, Taiwan increasingly feels like a parallel universe – a China without the insecurities and obsessions of the Communist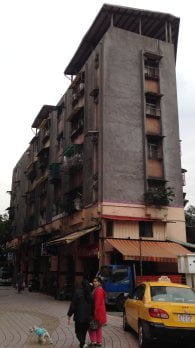 one-party state.
One visible constant is a relentless utilitarianism and lack of pretentiousness. Or, to put it more bluntly, the place looks like crap. Apart from the ridiculous Taipei 101 skyscraper, just about every building on the island is a grey, grimy block with a tin roof; the picture of some apartments on the right came out massively flattering.
They're just not interested in making the place look like something it isn't (compare with Shanghai, desperate to impress with its laborious wannabe-Hong Kong skyline). Even painting or tiling a concrete exterior is beyond local architects' imaginations or just too much hassle. I once heard that the old Kuomintang regime refused to tart the place up because they would all be moving back to the Mainland one day. Another theory is that this non-aesthetic is a hangover from Japanese rule (dangling telephone wires uglify every street, as in Korea). Whatever it is, after the buffoonish edifices elsewhere in Asia – Petronas Towers, Marina Bay, CCTV's 'big pants' – it's a relief.
Taiwan dazzles with less superficial things. Chief among these is the aforementioned social and political environment, which shreds Beijing's whole 'Chinese characteristics' baloney (and is a work in progress, the latest talk being of a parliamentary system). Coming a close second, is food. There are probably some pretty average places to eat – perhaps the countless plastic Japanese ramen/sushi places. Mostly, though, Taiwan is a big, if unsung, gourmet paradise…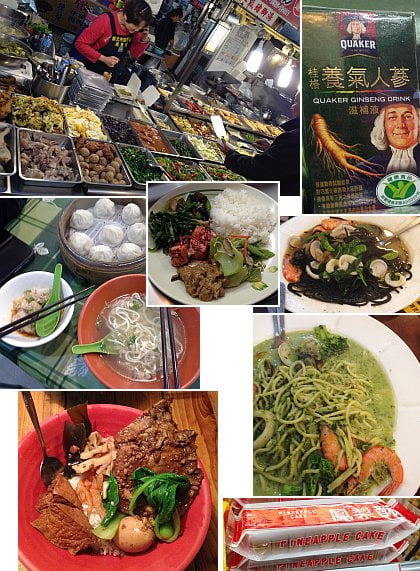 The fill-your-own lunchbox places are everywhere. The meal in the middle is from a small vegetarian counter, and cost a whole HK$15 (it is difficult to spend much in Taiwan: a vivid lesson in the benefits of low rents). The red bowl contains a 'miner's lunchbox', a fake tradition like the ploughman's lunch in British pubs. In this case, it is aimed at the small number of tourists who pass through a remote former coal-producing village in the hills, so the little restaurant could easily get away with selling something drab. But it was excellent: pork chop, tea-egg, greens, tofu, pickles and seaweed on rice, eaten at rough wooden tables and benches in what seems to be a genuine soot-stained former miners' canteen. The dishes on the right are spaghetti. Taipei is Asia's little-known pasta hub. Not sure why the Taiwanese have gone Italian in such a big way – maybe it makes a change from ordinary noodles. Seen in a supermarket: Quaker ginseng and own-brand, no-frills pineapple cakes, just as good as the pricy ones in fancy packaging.
The old coal-mining district…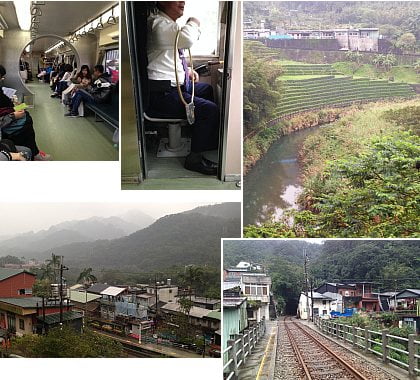 Desolated pit communities have tried to reinvent themselves as tourist destinations. One place has become Cat Village; another sells lanterns that people release into the sky in emulation of a scene in a mawkish romantic movie. As a result, part of this train ride is crowded with Mainlanders and Hongkongers, and therefore ideal if you're feeling homesick for the MTR. After that, it's a damp, misty, post-industrial semi-wilderness, with a dash of West Virginia and South Wales about it. The driver won't set off unless he's carrying a unique big brass medallion – a low-tech way to ensure that only one train is on the track at any time.
Meanwhile back in Taipei, giant stuffed toys are taking over…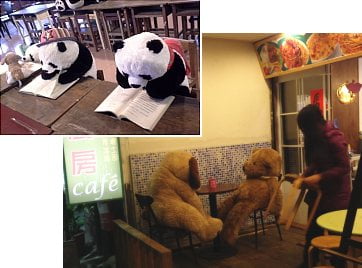 …and someone important must have died – why don't we do funeral processions like this in Hong Kong?