Expats eating out in Singapore end up deranged because there's no salt and pepper, waiters will not cater to your every whim if your hyper-delicate – not to say freakish – metabolism can't handle tomato, and one restaurant has the audacity to include papadums alongside BLT sandwiches. Just as there seems a remote possibility that these poor innocents' heads might not explode, along comes that great outrage against human decency, a squat toilet.
This probably says as much about Singapore as it does about precious Westerners who shouldn't be allowed out of Iowa or wherever (which reminds me of Louis Black's comment that the Americans who most insist that the US is the greatest country in the world are the ones who have never been overseas). Singapore has an image, carefully cultivated with the help of censorship and brainwashing, as 'squeaky clean' and 'efficient'. In international surveys, people say Changi/SQ are the best airport/airline because that's what they think they're supposed to say. The Lion City will attract the most mollycoddled global citizens, who in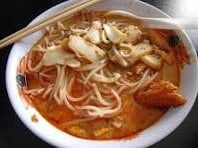 turn are likely to be the most gullible, and the least able to behold a bowl of laksa without feeling the need to sprinkle salt over it. The reality that, among the sterility and tedium, Singapore does have dirt and quite frequent outbursts of Asian-ness comes as a shock. And that's before they try to grapple with the idea that foreigners eat out to enjoy food.
The sensitive and guileless expats of the Wall Street Journal blog (filed under 'alienation', by the way) would be far better off in Hong Kong. This is, after all, a place where they don't cane rioters (though I'm amazed silent majority loon Robert Chow hasn't suggested it). And anyone homesick for mawkish and ethnocentric Anglo-Saxon meanderings need look no further than yesterday's government press release, quoting at great length (for a Communist-ruled territory) lavish praise for the Magna Carta and the rights of Englishmen. They could probably handle a few hours' of authentic cultural experience in Discovery Bay, land of endless white people with babies and dogs and Heinz baked beans. And there's the safety of dining in Soho, where the food is reassuringly irrelevant and all that matters is the manager who rearranges the salt and pepper shakers on your table every five minutes – or 'service', as they call it.
If Singapore is too exotic, WSJ's less-worldly writers should avoid the Land of Smiles, where the real Southeast Asia begins. Thailand's heir to the throne is 'regarded with loathing by many … for his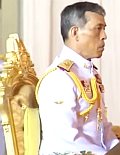 associations with Chinese gangsters [and] his womanizing'. He has had to disown his previous wife, a waitress (and indeed the one before that, an aspiring actress). The Asia Sentinel says the last ex-consort was videoed topless at a party held for her; my understanding is that it was a birthday bash for the Prince's poodle Fu-Fu – but maybe, being frightfully common, she did it more than once. (Or was it the time they celebrated Fu-Fu's appointment as an army captain? So easy to muddle these things up.) The article adds coyly that the Prince's far more popular sister 'has no interest in men' (and probably, we might add, vice-versa) and so cannot take his place. I declare the weekend open with the thought that obviously they can't have an unmarried monarch because, you know – that would be weird.