Ever since the days of Martin Lee and Szeto Wah, Hong Kong's pro-democracy leaders have been unable to resist retreating into the comfort zone of self-pity, martyrdom and misery. The student-led Umbrella movement has been a breath of fresh air precisely because it has been joyous, irreverent, hilarious, creative, spontaneous and unpredictable. Now clashes with the police are becoming ritualized, like South Korean campus protests from years ago, and pointless and counterproductive. And the young pin-up kids of this extraordinary uprising, Joshua Wong and buddies, confess that they have run out of original ideas by announcing that they will go on hunger strike.
This is as much a part of the pro-dem tradition as the overly-frequent march and threatens to be just as futile and embarrassing. Like self-immolation, it is about making the ultimate sacrifice – except you're still alive afterwards and the press coverage can go on far longer. And like the methods adopted by the movement's founders three decades ago, it will mainly impress the overseas media. The Hong Kong public who should form the target audience are unlikely to be inspired and awed by this tired old publicity stunt, and the pro-Beijing mobs will lap up the chance to mock and jeer.
What the students could have done (and still could/might do) is move on from getting clubbed by cops to the next unexpected, fun thing. Guerilla street theatre: how many ways can yellow umbrellas turn up and ruin an official event or patriotic scene? Flash mobs. My favourite: well-aimed boycotts of certain tycoons' businesses. And, you know – verve. Don't do depressing.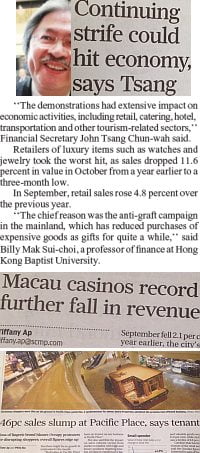 It's not only the pro-dem people who are getting stale. Financial Secretary John Tsang robotically blames the Occupy protests for a slowdown in the growth rate of retail sales. Shops didn't sell less: they sold 'only' 1.4% more year-on-year in October. In fact stores sold more in October, when the protests were in full swing, than in September, before the sit-ins started. Various other data, including visitor arrivals, suggest that the Umbrella events had no real impact on the economy. Falls in sales of trashy watches, like the ongoing decline in Macau casino revenues, are obviously the result of China's anti-corruption drive.
For right-thinking people who would be delighted to think that the demonstrations are damaging the tourist-retail parasite monster consuming our neighbourhoods, it all sounds a bit gloomy.
But wait! Good news! A vendor of tacky-sounding Italian underwear reports a 46% fall in the high-end blah-blah luxury crap sold in Pacific Place. Even before the Mainland shopper invasion began, the Swire flagship mall in Admiralty was full of stores selling stuff only an idiot would buy. There was once a Swindon's bookshop, I seem to recall. And of course CD place Hong Kong Records – though I doubt that will survive the downfall of ex-Chief Secretary and mega-customer Rafael Hui. Even the supermarket in the basement is working overtime finding products no-one could possibly want – like the nasty Marie Antoinette-style cakes and more tacky Italian grotesquerie in the form of candy-striped pasta. Another 46% fall, please…