After all the defiance, euphoria, bitterness and recriminations surrounding Hong Kong's Umbrella-Occupy revolt, it's hard to imagine everyone getting back to the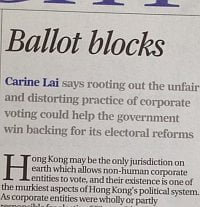 tiny details of electoral reform as if nothing had happened. But Carine Lai, manager at think tank Civic Exchange, evidently feels up to it, outlining a suggestion on corporate voting in today's South China Morning Post. Civic Exchange having a reputation for being a real think tank rather than a front for pro-Beijing propaganda, we will pay some attention.
First, some background.
Anyone following Time, Guardian, Vice, NYT, FT and other overseas coverage of Hong Kong in the last eight weeks will have noticed the foreign media's difficulties in understanding our election system, especially the Functional Constituencies that have so many seats in the legislature, on the Chief Executive Election Committee and on the proposed Nomination Committee. This is hardly surprising: the system is designed to be as bewildering as possible. This is to hide its true purpose, and it works.
Chinese officials and apologists claim this byzantine structure, with its underlying layers of fisheries associations, Chinese medicine organizations, neighbourhood aid societies and weird cultural groups, guarantees all sectors a say. They call it 'balanced representation' or something similar. The overseas – and much local – press see through this garbage. They declare that the whole framework is designed to give undue influence and power to pro-Beijing interest groups, especially the tycoons, and they congratulate themselves on their insight. But actually they are wrong.
Forget the stuff about how Mussolini used functional constituencies. Forget the fact that the British introduced the first ones in Hong Kong as a tentative 1980s step towards representative government. And forget the myth perpetuated by most of the press that these privileged elites get to choose the Chief Executive (and forget the fact that many of these 'elites' themselves tend to believe it). The Functional Constituency system is simply about stuffing a supposed electoral body with enough puppets that it can serve as a rubber stamp.
If Beijing wants to veto a vote in the Legislative Council, it phones dependable, loyal FC lawmakers, and a bill or motion gets voted down. The outcome of the Chief Executive 'election' is similarly decided beforehand in Beijing, with the word going out telling obedient Election Committee members how to cast their votes. (Even if the tycoons vote for someone else. We saw this in 2012, when a large swathe of EC members – patriotic DAB leftists and subservient fisheries and Chinese medicine morons – insisted they were still 'deciding' between Henry Tang and CY Leung up to the last minute.)
The servile dummies get a pat on their head for their loyalty; their 'sectors' might get a free lunch, like the sports associations with their new stadium, but otherwise they are just useful fools. Note that the property tycoons prosper merrily regardless of the fact that they voted for the 'wrong' guy in Henry Tang. When 'electing' the Chief Executive, Functional Constituencies as a mass do not bring or wield any power of their own: they simply exist to disguise direct Beijing control.
Civic Exchange's Carine Lai proposes the abolition of corporate votes – non-human voters that make up the electorate in some (mostly small, mostly commercial) Functional Constituencies. This is the most blatantly rotten part of the system; she gives the example of conglomerate Hutchison Whampoa, which is said to have 36 votes via various subsidiaries. She also points out how the associations and groups that serve as non-human electors gain their FC franchise either through selection by officials or by their peers or even themselves (with guidance from Beijing, of course).
Replacing corporate votes with humans would widen some tightly restricted franchises slightly. Rather than one Chairman having 36 votes, a bunch of directors and others would get a vote each. This could in theory introduce a little more competition into the small-circle business FCs like banking and the chambers of commerce. The 'losers' would be tycoons with multiple votes, who could lose a bit of clout when it comes to picking (or leaning on) legislators, and maybe a bit of face.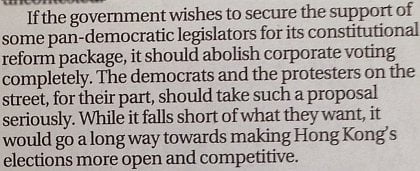 Other than that, such a reform achieves nothing very meaningful in practical terms, though you could say it's a step forward symbolically. The FCs as a whole would go on feeding reliable automatons into the CE Election Committee and (if it happens) the Nomination Committee picking the CE candidates in 2017. And this has to be the case, because in a Communist state, the ruling party must maintain its monopoly of power and absolute control. That's the bottom line: the FCs as a bloc do not have power or represent power, they – or at least the plurality of them that are puppets – simply channel it.
The think tank's founder Christine Loh is Environment Under-Secretary in the current much-loathed government, and is usually seen as a potential Chief Executive if Beijing decides to take a wild risk and let Hong Kong have a leader with a brain of her own. So the researchers may prefer to err on the constructive rather than radical side. But, even so, we can declare the weekend open with this thought: it says something about the shifts and splits in public sentiment following Occupy that good old Civic Exchange now comes across as a rather lonely-sounding voice of moderation and reason.