When Hong Kong's Umbrella-Occupy movement no longer spreads a little occasional mirth, it will be time for the protestors to go home. So far – amid controversy, drift and uncertainty – at least a few laughs keep coming, suggesting that the 'tented communities' should be around for a while yet.
Today's amusement comes from Court of Final Appeal Judge Henry Litton, in personal comments at an event at HK University. He admits to being 'intrigued' by the
applications for injunctions against the sit-ins, which resulted in Monday's judgment authorizing bailiffs to clear the streets.
In effect, he questioned why private plaintiffs were taking civil action in a public-order case, while the government, with its clear powers and duty to take action against people committing criminal acts, was sitting around doing nothing. He also wondered why the hearing was ex parte, behind occupiers' backs, when the matter did not seem to be hugely urgent.
Judges (stereotypically) reinforce their reputation for being out of touch by asking innocent questions that make ordinary folk roll their eyes. However, Justice Litton reveals that he, like thousands of common people, has trudged around the Occupy site at Mongkok to find out more. His questions and his claim to be mystified by the injunction look more rhetorical and indeed part of the joke. (He was speaking at a forum on the Umbrella Movement and rule of law, which is a sort-of giveaway.)
We can have a stab at answering the questions. Associations of taxi operators and other United Front-linked groups applied for the injunctions at the behest of the local and Central governments. This is supposed to create the impression that the 'silent majority' people of Hong Kong are in conflict with the selfish, foreign-funded, National Education-skipping, economy-wrecking, splittist criminals inconveniencing society by blocking the streets. It is also presumably intended to help the government avoid enforcing the criminal law directly and delivering moral victory to the side of non-violent civil disobedience.
Ultimately, of course, it isn't funny. Under pressure – indeed orders – from Beijing, the Hong Kong government is undermining rule of law in its desperate attempts to portray Kids in Tents on Streets as a mortal threat to the city's well-being and thus avoid addressing the underlying problem of bad governance.
This is not a sustainable pattern. Either Beijing ends up reducing Hong Kong to a Mainland-style dictatorship, or the Hong Kong authorities have to backtrack at some point and admit that their bad policies and practices are the root cause of revolt. Most likely, cooler heads months down the road will attempt a face-saving way out where jolly officials vaguely resolve to do better in return for a few pro-democrats expressing some sort of grudging remorse for unspecified excesses and sins, and everyone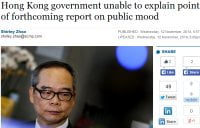 knows everyone's lying.
Meanwhile, ingenious officials propose the most hopelessly unconvincing face-saving device ever, in the form of a public sentiments report to Beijing that proudly boasts no known purpose. This is the government's main tactic for now: stunning and silencing the enemy with bizarreness and idiocy.