We don't normally associate the words 'thoughts' and 'ideas' with Hong Kong Liberal Party leader James Tien. Still, there they are. After the shallow and opportunistic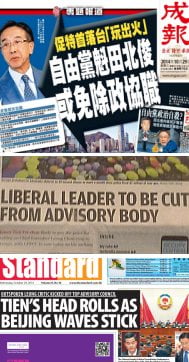 rich-kid tycoon guilelessly blabbed that Chief Executive CY Leung might consider resigning, he gets expelled from the Chinese People's Political Consultative Snore-Fest.
Beijing is sending two messages. The first is aimed at Hong Kong's plutocrat caste: You will be publicly totally loyal to CY even as his authority visibly crumbles – or else. The second is aimed at the rest of us: We are totalitarians who require robotic obedience, and those of you who cherish freedom have every reason to be out on the streets.
And so, one of the slimiest invertebrates on Hong Kong's political scene finds himself improbably cast as a cheeky, loveable, roguish maverick and rebel-hero of the people – for a second time. The first was when he stabbed then-CE Tung Chee-hwa in the back over the Article 23 national security law in 2003. He had visions of the developer-centric Liberals attracting a certain strand of middle-class voter and was desperate to distance the party from the floundering Crop-Haired One, and Beijing indulged him. But this time it's different. The tycoons' hatred of CY cannot undermine the struggle against the evil, foreign-backed Umbrella movement.
James's relatively cerebral kid brother Michael seems unsympathetic, saying that CPPCC delegates have a duty to stay in line and 'should be prepared to pay a price if they feel a need to air their views'. Michael is a member of (Tung's Article 23 mastermind) Regina Ip's New People's Party, which also targets that certain strand of middle-class voter. It possibly has a better chance of success, being more bourgeois-bureaucrat than cartel-inheriting entitled elite. But Beijing's harsh with-us-or-against-us clampdown doesn't make it easy.
The more authoritarian, student-hating, tycoon-admiring segment of the middle class (typically social climbers, no-hope HK Golf Club applicants, Bible-bashers or cops' relatives) do exist, and they are more than happy to believe that Occupy Central is ruining the economy and harming rule of law. But these people should not be confused with mindless and devout followers of the Communist faith. As James knew in 2003, they will draw a line at some point, and it is quite possibly where someone says 'you cannot have your own thoughts or ideas', or 'you must pay a price if you feel a need to air your views'.
The defenestration of James Tien is a tightening of the United Front squeeze machine: you submit to being squashed into the correct shape and stay with us, or you pop out and fall onto the wasteland with the other hostile forces. There's no in-between. If – as someone with business on the Mainland or anything else to lose – you are very lucky and/or quite smart, you just might get away with keeping your head down (as a contrite James will no doubt now do).
Even looking like the Smarmy Idiot-Loser from Hell and endorsing Robert 'Silent Majority' Chow's clownish anti-Occupy freak show won't help you…