Hong Kong's Financial Secretary John Tsang makes another attempt to justify the continued flood of Mainland shoppers inundating the city. This time he tries to prove in a blog post that we should continue letting the hordes across the border because we are not over-reliant on them. Since we are not over-reliant on them, he goes on, it follows that they do not adversely affect the daily lives of local people.
To turn logic upside down not once but twice this way is impressive. That the economy does not need the influx of shoppers is readily apparent (we were doing fine before the flood began some five or so years ago – Jake van der Kamp debunks the shoppers-GDP linkage here). Logic dictates that 'does not need' and 'not over-reliant on' mean the same thing, confirming that there is no economic case for letting all these shoppers in. Common sense should tell us that there is no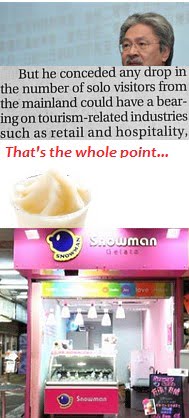 linkage between your reliance (or non-reliance) on something and how much it adversely affects your day to day life.
OK, you could debate this last point. Is it true with, say, money if you are poor? But where Mainland shoppers are concerned, I fail to see a connection. Whether we need a constant stream of thousands of shoppers or not, they cannot help but damage local people's interests in some ways.
To remind myself, I took a trip up to Yuen Long yesterday. As well as the shoppers/traders dragging their infernal suitcases around everywhere, the town is also for some reason a magnet for private car owners, at least on a Sunday. Both the sidewalks and the streets are horrendously overburdened, as in I'm-going-to-strangle-someone-any-minute. This is failure of governance at its most basic. There is no way to increase capacity for either vehicles or people, yet no-one dares consider the only alternative solution, which is to reduce access.
Planners did build some pedestrianized areas away from today's core locust-trap strip, and some relatively calm local life continues. Specifically, much of it is Indian, Nepalese and Indonesian, and its concentration in these side streets seems have a Mainlander-proofing effect. There's also the Snowman Gelato store, which – without a sense of irony, so far as I can tell – does a roaring trade in Yakult sorbet.
I was in fact passing through Yuen Long en route to my once-a-decade inspection visit to Fairview Park, the gated community of miniature houses with miniature back yards. It is starting to look shabby. But after a long absence – and a brief interlude in the crowded dystopia of Yuen Long – the biggest surprise is the almost deserted feel of the place. Obviously, it's low-rise and low-density. And it's not the bizarre sort of post-apocalyptic hermit kingdom that is Sea Ranch, subject of this brilliant little documentary. It's just that there's something seriously missing…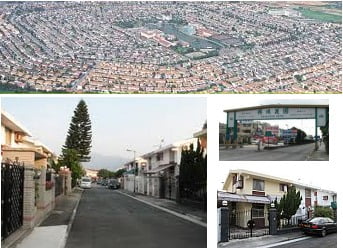 Although every little house comes with a little car port, everyone parks right up on the sidewalk anyway. And maybe that's a clue to what this place is, or isn't, about.
To a more-frequent visitor to Discovery Bay, it is impossible not to make comparisons. First, the topography/feng-shui. FVP is built on flat swamp among old fishponds, hisses with insects and snakes, and lies not far from Lok Ma Chau border crossing. DB nestles on picturesque coastline beneath impressive mountains, and is half an hour from Central and the airport. No competition.
DB is famously sterile, famously a bubble insulated not just from Hong Kong but Asia generally, and a bit of a joke. Until you stroll around FVP, and you realize how much DB actually buzzes. In FVP, everyone sits cloistered away behind the walls of their little homes. You get the impression no-one knows each other or wants to know each other. Parking on the sidewalk isn't selfish or lazy or anti-social, it's what everyone does. There is a central zone of shops, complete with a lake and sitting-out areas, yet few go there. There is loads of space for kids to play and cycle, but (even allowing for the hot day) hardly any do. It's as if everyone is sitting on black sofas watching their 62-inch TVs oblivious to the world.
DB, with its yapping dogs and screaming children and gossipy pregnant women and their gossipy boozing menfolk, does at least have human life. It even has character, of a sort. It actually, is, dare I say it, a community.
Both developments are aimed at people who want the sort of Western 'suburban sprawl' environment Hong Kong doesn't and can't have. The demographics are obviously quite different. DB looks roughly 50% Westerners, 25% Chinese, 25% other Asian; FVP seems a good 90% Chinese (based on a small sample of residents who venture out of their little toy houses). Perhaps just as important, it must appeal to a different sort of market – maybe people with business across the border. I'll leave anthropologists and sociologists to explain.
They don't seem too keen on nature in even its most tamed form. Here's a proud Fairview Park family's lawn…