Readers of the on-line South China Morning Post start the day with a jolt: a big picture of entertainment mogul Allan Zeman doing an impression of the Missing Link. He
accuses Hong Kong's Legislative Council of holding the city back on the 'entertainment front', citing a 'major threat' in the form of Shanghai's new and bigger Disneyland, and how we will 'lose out' to other Chinese cities. The reader wonders what the great man will do to prevent the Big Lychee's downfall as a nightlife-entertainment-tourism-hub-zone. He proceeds to regale us with details of his investments in vast new Lan Kwai Fongs in various corrupt, Internet-censoring, food-adulterating Mainland backwaters.
It is easy to accuse the landlord-entrepreneur of selfishness, arrogance, greed and a sense of entitlement (one impertinent SCMP commenter asks how many affordable housing units he has built). But maybe that would be unfair. Zeman – like our friend Commerce Secretary Greg So and dozens of others – appears genuinely not to be of this world. Hong Kong's upper middle class, expats, parasite singles and dog-worshippers might all live in their own infamous bubbles, but at least they get a glimpse of overcrowded, unaffordable and increasingly desperate reality from time to time, if only in the papers. The tycoons and officials inhabit a parallel universe in which trains and sidewalks packed to bursting, subdivided apartments and business-destroying rent rises are not happening.
Zeman sounds sincerely perplexed when the reporter mentions difficulties facing inhabitants of Planet Hong Kong. "People do not have their own homes so they blame Mainlanders," he complains. He is bewildered by this irrationality: Mainlanders produce profit for landlords – how can we possibly oppose that? In short, to Zeman, we are in fact him. "The reality is we have no land," he goes on. The wretched Disney park, the desolate HK$8 billion Kai Tak Cruise Terminal, the malls full of pap nobody here wants: they aren't sitting on land – it's something else.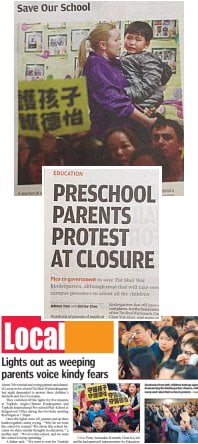 A few pages later and we are firmly back on Planet Hong Kong. It's Kingswood Villas up in Tin Shui Wai, where the rabbit hutches go for a third the price of those on the Island, and as a result the modestly well-off middle class can afford to send their offspring to a nice kindergarten. Except now they can't. Topkids preschool's rent is going up, massively. Like a neighbourhood noodle place being replaced by a scented-candles-for-retard-tourists boutique, the premises are being taken by a 'rival' with higher fees and an eye on the Mainland market.
If this were a movie with a stupidly corny plotline, the landlord would turn out to be part of mega-tycoon Li Ka-shing's empire. Oh wait – the landlord is part of mega-tycoon Li Ka-shing's empire. I don't call this being 'held back' on the entertainment front.