There I was just the other day, even-handedly conceding that the South China Morning Post – unlike many other local newspapers – doesn't over-obviously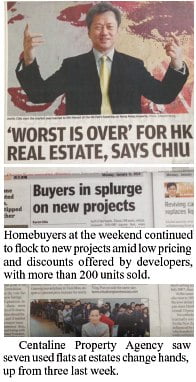 give property tycoons 'free advertising for their latest rip-off property development'. And what does it do today but splash a big story on the front page of the business section presenting Li Ka-shing's Cheung Kong boss Justin Chiu's 'worst over for property market' hogwash as gospel? Then again, I did say just the day before that we could expect the SCMP's report on Cheung Kong Infrastructure's minuscule tax bills to be followed by 'some highly flattering stories about Cheung Kong and Hutchison before long'. The secret to soothsaying: cover all angles.
Yesterday was 'Talk Up Property Prices Day'. The Standard has a similar story about a 'splurge', no less, focused on Henderson Land's Thomas Lam, who talks of thousands rushing to buy the developer's latest batch of overpriced rabbit hutches, even though transaction numbers on planet Earth show a market that has dried up.
People in the media express dismay at their industry's weakening credibility among the Hong Kong public. But what do they expect when they churn out deliberately biased reports designed to lure consumers into making probably-stupid multi-million-dollar property purchases? There was a time when readers wouldn't have questioned it too much. But not now. This is one part of cartelization and monopoly where there's no lack of transparency: it's pretty clear when tycoon Charles Ho has called up his Sing Tao/Standard editors and told them to boost Li Shau-kee's latest residential project, or when the Kuoks at the SCMP have demanded a front-page bit of groveling to atone for a piece that incurred (or risked incurring) the displeasure of Li Ka-shing.
Look at the readers' comments below the on-line SCMP story ('article is pure PR garbage') and it's obvious that people aren't taken in. But they're not supposed to be. Like much advertising and PR, this piffle is designed to please the proprietor who ordered it, not to persuade or convince the bemused public. It's just gratuitous inter-tycoon shoe-shining, in which innocent newspaper readers are forced to be witnesses. When the big tycoons bought up most of Hong Kong's newspapers, we thought it was so they could kowtow to Beijing in print; it's turned out to be even more putrid and nauseating than that. If you have a sick-bag handy, look at this little Standard item in which (essentially) Charles Ho pisses on the Kuoks for being mean to Li Ka-shing. Eewww…
As a bit of light relief: who can fail to notice the uncanny likeness between Cheung Kong boss Chiu (left) and Turkmenistan's late President for Life and ultra-propagandist Saparmurat Niyazov (right)?