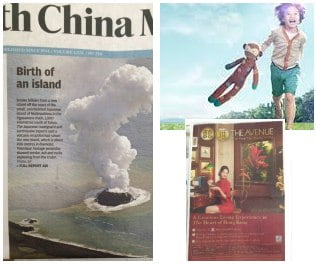 How long before Beijing declares that the new island off Nishinoshima, Japan is historically Chinese territory, and sends fisheries patrol vessels to lurk menacingly on the horizon?
It's not just the Western Pacific that's seeing new real estate cropping up right now. Hong Kong newspaper readers will have been slightly perturbed lately by full-page ads showing a curly-haired little boy dragging a creepy-looking toy monkey across a deserted field and giving no clue as to what product or service was being promoted other than the word 'Visionary'. The ad, it turns out, was for a new development in sunny Tung Chung.
The Standard reports that Joel Chan, the ex-boyfriend of one of casino king Stanley Ho's daughters, is thinking of trading his Home Ownership Scheme unit in Kowloon Bay for an apartment there. I think this is supposed to make the rest of us want to buy one too (it also reminds us that Stanley Ho has so many female offspring that some are sadly reduced to almost literally slumming it in search of a mate).
Celebrity-Property-Purchase-Watch also reveals singer Karen Mok's apparent interest in The Avenue – the Urban Renewal Authority excrescence on what used to be Lee Tung or Wedding Card Street in Wanchai. This project is also being widely advertised. While Nan Fung pushes a 'kid with sinister ape doll' concept, the theme here is some sort of 1930s retro-glamour-chic.
But if we are nostalgic for anything, it should be for the glory days of property ads themselves. Something has changed. Misleading artists' impressions have not been banned exactly, but the vendors are now required to cram a lot of not-so-small print onto the ads, stating quite plainly that any and all visuals are, in all likelihood, crap. The fun has gone out of it.
New regulations on the sale of new property are now kicking in. The new law came into effect some six months ago, and after dragging their feet and even delaying launches to avoid the impact, developers are finally having to embrace unprecedented degrees of honesty. The sales brochure for The Avenue makes it clear that this is a densely crowded location (and due to become even more so when Hopewell opens its new mega-hotel a few blocks away). Flick down to page 46, and zoom in, and you see how cramped these flats will be, especially once you subtract bay windows and balconies. The price list presents the same degree of honesty in dollar terms. Beforehand, developers were essentially free to cheat and lie and con. There is even a bureaucracy dedicated to enforcing the rules.
Developers and their slimy intermediaries can still use some psychological trickery. By offering rebates and payment of stamp duty, they can pretend to cut (or, to make themselves feel better, pretend not to cut) prices. By releasing units in batches and tweaking the pricing each time, they can engineer an initial clamour to buy, which – they hope – will gather momentum even as the prices rise as later batches go on sale. And they can sit you at a table, put a form in front of you and give you five minutes to sign, or the deal's off. All of these depend on the buyers being to some extent stupid rather than just lied to.
More projects are in the pipeline. You won't hear about it much in the Standard, which is dedicated to talking up prices, but some analysts foresee a steep correction in the Hong Kong property market – as much as 50%. Of course, they've been saying this for ages and there's still no serious sign that the US Federal Reserve is going to stop printing money, which is underpinning equities as well as real estate. But the little green bits of paper still have some purchasing power, and there's only so much anticipated debasement of the currency you can price into an asset before it ceases to make sense. Why would Joel Chan or Karen Mok, or anyone, buy now?