Mayhem – of a Hong Kong, chair-throwing order of magnitude – breaks out in Tin Shui Wai outside what appears to have been a dull enough town-hall meeting between local residents and Chief Executive CY Leung. Such conflict is now becoming normal. Although so far mostly ritualized, it could easily get to the stage where someone gets hurt. It's not going to get like Belfast or Tahrir Square, but that's the point: violence is not a part of the modern reality here. It's as if the whole community is going off-script.
The polarization of the city, spurred on recently by the pro-democracy Occupy Central movement, is the result of 15 years' poor governance and lack of political reform – or, in one word, Beijing. Although he doesn't say it explicitly, Legislative Council President and Chinese Communist Party supporter Tsang Yok-sing admits as much in an RTHK Radio 3 interview this morning (starts at 42m 30s). He essentially says that Beijing officials now realize that some sort of universal suffrage is essential for 2017.
That leaves a lot of incredibly tedious quibbling over details. Pan-democrats are already split over it. Absolutists demanding a wide-open nomination system for CE candidates are jumping on the relatively pragmatic HK Democratic Party for looking conciliatory. By strong-arming the pro-establishment/tycoon camp into accepting semi-democratic functional constituencies – the CCP will insist on retaining some sort of veto in the legislature – Beijing will hope to divide the pan-dems and get a reform bill through.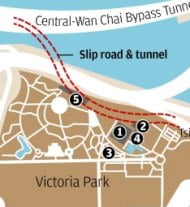 While we're waiting for that to happen, the psychopaths who do urban planning around here have surreptitiously started to build a highway over 20,000 square feet of Victoria Park, at a cost of 350 trees. It's right along the northern edge, which not many people go to, so who'll miss it? The bureaucrats responsible did a good job of hiding this. Another Queen's Pier uprising, anyone?
Finally, Great Moments in Microeconomics over at the HK Bar and Club Association. A proposed levy on beverage bottles will raise beer prices by 5% to 10%, according to chairman George Tsai. (The government's let's-all-be-green-and-happy consultation document estimates that the pre-paid recycling charge will be around HK$1 per litre, or 75c for a wine bottle, but let's not get distracted.) This price hike, he says, will divert consumers towards… cocktails, thus creating a 50% rise in sales of girly drinks with silly names, and a near doubling in the number of bartenders in town (no word on where they will fit behind the cramped bars – maybe in space once occupied by cases of fine ales and lagers).
This is like saying that if the price of Heinz baked beans and offal-fat frozen sausages rose by a twentieth, every overweight British resident of Discovery Bay will suddenly start eating quiche and salad. I don't mind the occasional gin rickey (Club 71 off Hollywood Road does an OK one), but Mr Tsai is seriously miscalculating elasticity of demand for what the Chinese call 'liquid bread'.