Just when you thought Hong Kong's pro-Beijing apparatus couldn't possibly contrive another group to oppose the pro-democracy Occupy Central movement, one more is unveiled. The timing, coming on the heels of the Alpais Lam/Mongkok/police drama, is unhelpful from a social-harmony point of view; maybe that's unfortunate and unintended, or maybe the string-pullers behind the scenes are beyond caring. Either way, the basic message is: we're so desperate that we're going to have a stab at being halfway subtle or sophisticated.
With a depressing lack of originality, this lot style themselves the Silent Majority – a label that invariably means they're neither. They claim to have no connection with the Chinese government's local Liaison Office, which of course means they do. The fact is that the pro-democrats' planned campaign of civil disobedience, while high-minded and potentially attention-grabbing, poses no serious threat to civic order beyond the re-routing of some bus services. Any assemblage of people saying it will cause chaos and billions of dollars of losses are lying. The reason they are lying is because someone has pressured them to do so.
Still, this latest bundle of puppets – sorry-looking and unconvincing though they may seem – are a sort of step forward. So far, the numerous bodies dutifully yelping about Occupy Central have been predictable business chambers, loyalist political parties or quasi-grassroots groups. These guys, however, are heavy on the academic/media/tech side. In other words, they are intended to appear cool and groovy, just like Professor Benny Tai and the other intellectual funky hipsters threatening to sit down in the central business district next year. You might laugh…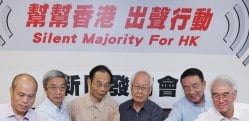 …but compared with the grubby New Territories heavies in the Heung Yee Kuk, the obedient, grinning clones in suits from the HK General Chamber of Commerce or the creepy mouth-frothers of the Voice of Loving Hong Kong, these dudes are amazingly trendy and with-it, daddy-o. Really.
The more recognizable ones are probably Robert Chow, radio host and would-be boss of RTHK and Ho Lok-sang of Lingnan University. Most have served as appointees to the usual government boards and shoe-shiners' clubs, notably the Central Policy Unit. Fung Ka-pun is a Liberal Party member up to his neck in Mainland business interests. Peter Wong is on the Chinese People's Political Consultative Conference – the pinnacle of shoe-shiners' clubs – and appears about a fifth of the way down the lengthy list of patriots who signed up to the exciting HK Association for the Peaceful Reunification of China.
You don't expect the United Front to do 'urbane and bohemian' well – you're just amazed to see them do it at all. I declare the weekend open with the fairly amazing thought that this is how unnerved Beijing's officials are by Occupy Central.