A day when nothing is happening coincides with one of those outrageous but mercifully rare occasions when I am expected to do some work. Just time to relate my bemusement upon opening the Standard this morning and seeing the following… 
Some writers are saying that the North Korean regime is planning to murder Adolf Hitler. That's Adolf Hitler (1889-1945). It says a lot about the government of Kim Jong Un that a reader glancing at the headline does little more than raise an eyebrow at something apparently impossible, illogical and lunatic. Coming from Pyongyang, it's entirely plausible.
So I read on and find out what it's actually about. Then I examine the headline more carefully and see – my mistake – that it makes sense after all…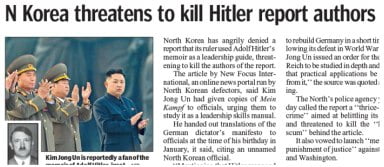 We see what we expect, or at least wouldn't be too shocked, to see. Good thing I bothered to read the first paragraph.