Special deals on pre-owned handbags, dried seafood and meals from 2-5pm; a K-pop concert with cheap tickets sponsored by all the property giants from 2-6pm; a carnival in Tamar Park starting at 2pm… Establishment and pro-Beijing bodies are clearly attempting to divert people and attention from this year's July 1 march on Monday week. In the interests of thoroughness, or maybe just paranoia, I can add a parade and display by the HK Classic Car Club – from (in case you hadn't guessed) 2-5pm.
The Standard quotes City U's James Sung as saying it all looks like a dummy run for next year's planned Occupy Central. A Chinese U counterpart Ivan Choy notes how eagerly the establishment bloc is responding to the central government's nervousness. Another academic, Dixon Sing of HKUST, says it is clear that Beijing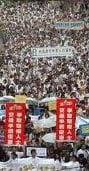 will not be granting Hong Kong real universal suffrage and "There will be a 'war'."
It is impossible to rule out Liaison Office politics playing a role here. Beijing's local emissaries have their careers to promote, and getting tough on Hong Kong's counter-revolutionary, subversive enemies of the people is one way to do it. (Though this time 10 years ago, just before the massive Article 23 protest that ultimately toppled Chief Executive Tung Chee-hwa, local Mainland officials were doing the opposite and telling their bosses back home all was well.)
If we take it at face value, however, Beijing must be genuinely worried. Although the Occupy Central organizers are open about what they are doing, and even perhaps endearingly naïve, the methodical and structured nature of their campaign must look intensely suspicious. It follows a formula and is therefore replicable; if it can happen in Hong Kong, it could happen over the border. Indeed, with its workshops and efforts to reach out to the grassroots, it looks a little like something that did happen in the Mainland – in Shanghai in 1921.
The fewer messages and causes a July 1 march has, the more people turn up. The 2003 event was an obvious example. Since then, the annual demonstration has often been broadcasting a bewildering array of demands for everything from a universal pension to gay marriage to Indonesian maids' rights, along with the inevitable calls for this official and that official to step down (never any suggestion as to who should replace them). Beijing's local minders foresee a more united gathering this year. If they had shut up, they could have found they were mistaken; hapless Executive Council member Barry Cheung, a dozen people's illegal structures, striking dockworkers, dividend tax and a host of other outrages and dreams could have led to the usual carnival of mixed messages. But the anxiety about Occupy Central and the silly stunts with pop concerts and shop discounts could instead yield a self-fulfilling prophecy: a sizable march relatively focused on political reform and governance.
Two reasons to, at the last minute, cancel that planned country park picnic or YouTube-binge-in-pajamas and scribble 'Monday afternoon, Victoria Park' into your diary: it could up the stakes in what is looking like the next confrontation between Hong Kong and Beijing, following Article 23 and National Education; it will piss them off that so many people don't want 20% off a handbag.
On a less optimistic note, there is no reason to imagine that the central authorities will be as flexible on rigged elections as they were on symbolism like Article 23. The last thing a big demonstration will do is convince Beijing officials to open up the political system. It's the last thing a small one will do, as well. Maybe Dixon 'War' Sing is on to something.
I hereby declare the weekend open.