If there were a book called Hong Kong Pressure Groups You've Never Heard Of, Left 21 would probably appear around halfway through, on page 791. Between Left 20 and Left 22, perhaps. Anyway, these people and their buddies from the Neighbourhood and Workers' Service Centre (page 633 of Hong Kong Pressure Groups You'd Heard Of But Forgotten Existed) have called for a tax on dividends to help the poor.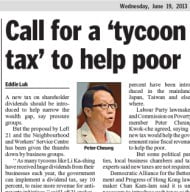 They describe it as a tax on tycoons, but it would affect anyone with a stock portfolio, including helpless retirees who depend on dividend income to survive. And, now I come to think of it, me. (There is a way round that, namely to expand the current salaries tax into a broad levy on all forms of income above a given living allowance – but even Left 21 aren't suggesting we go down that road.)
Obviously, this is more about getting media attention than proposing a sensible policy; this way, Left 21 can mention property mogul and famed non-payer of tax Li Ka-shing, and thus get into the papers. The suggestion is silly because it assumes that the government needs additional revenues in order to increase expenditure on the poor. With a grossly overpaid civil service, regular budget surpluses and some HK$1.6 trillion in reserves, Hong Kong could double welfare spending without even noticing the impact on its pocket.
The Standard quotes a number of individuals, all of whom come across as buffoons – with one exception: a legislator from the pro-Beijing Democratic Alliance for the Betterment Etc of HK, who calmly points out the government's enviable fiscal position. I can't help noticing this, as it's the second occasion recently (or ever?) that DAB members have unwittingly sounded like they're thinking for themselves.
The other case has been that of American geek-spy-traitor-hero Edward Snowden, about whom DAB vice-chairman Starry Lee says "I think the Hong Kong government should protect him."
We must stress 'sounded like'. Of course, Starry is not really speaking her own mind. The Global Times, almost in a parody of its own usual chutzpah, is calling for the Big Lychee to give refuge to Snowden on the grounds that we shelter Chinese dissidents. Although Beijing is officially silent on Snowden's fate (and milking the we-are-victims-of-US-cybercrime thing for all it's worth), it seems that China likes the idea of making the US sweat over the possibility that the 29-year-old school dropout whose mind holds the key to the US's entire national security won't be returned.
Everyone seems a bit confused. Some Hong Kong pro-Beijing voices are trying to say that the pro-democrats are American stooges for not criticizing Washington's electronic surveillance enough. Other patriots, like Starry, find themselves protesting awkwardly with their local radical enemies outside the US Consulate. Over in the US, some conservatives who usually denounce Barack Obama as the Kenyan Socialist Muslim are siding with him, while some are joining progressives in opposing his attack on privacy, and some other progressives are miffed that Snowden is defecting to and passing secrets to Communist China (one or two here, at least). Compared with this lot, Left 21 thinks straight.
The allegation that Snowden is passing secrets to China adds a fascinating twist to all this. China would want to refute it as beneath the nation's dignity, while Snowden has to disprove the slander to protect his status as saintly hero. It's the sort of thing that can induce everyone to play along with an extradition. Meanwhile Ed is working on his wispy-beard-and-whereabouts-unknown mystique (except of course for those of us invited to the barbecue on Saturday).