Yesterday, rising food prices were giving the poor 'generalized anxiety disorder', for which a psychiatrist prescribed 'having fun while shopping for bargains'. Today, the Consumer Council's Michael Hui pleads with retailers "to scale their prices down and live with the Hong Kong people in times of difficulty, sharing the benefits of cost reductions with the public at large."
And indeed his prayers are answered, with a Park N Shop spokesman assuring us that the Li Ka-shing-owned company determines 'special discounts on various items to ease the pressure on consumers'. And they all lived happily ever after.
A closer look at the Consumer Council's press release shows that, thanks to the generosity of Asia's richest tycoon, the price of alcoholic drinks has dropped 5% in the last year. Who needs diapers or Wyeth Promil Gold Number 2 baby formula when you can get – as I did not long ago – large-size cans of Yanjing (China's fair-ish 'official state beer') at two for HK$11.80? Cheaper than Watson's water.
One item leaps out from the Consumer Council's shopping basket: Spam. Seventy years ago, this plasticky pink substance helped defeat Fascism by providing allied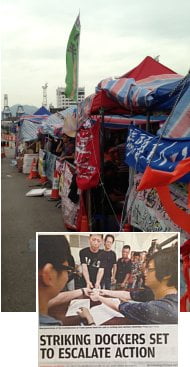 soldiers and civilians with cheap and transportable protein. Apparently, around 1946 or so, half-starved refugees arriving in Hong Kong noticed colonial administrators eating cans of Hormel's 'SPiced hAM' product and concluded that it must be oh-so high-class. Next thing, it turns up in Cha Chaan Teng instant noodles for breakfast and reaches the same status in Cantonese cuisine as abalone stuffed with frog ovaries. Anyway, it's up 12.7%.
An op-ed piece in today's South China Morning Post examines the Hong Kong dock workers' strike. While accepting that their working conditions sound nasty, the writer says the dockers are not that badly paid – being in the top 30% of the city's earners. Rather than being oppressed proletariat, they are closer to middle-class, heavily exposed to unaffordable housing and rising grocery bills. Meanwhile, a commentator at Lingnan University points the finger at Li Ka-shing-owned port operator HIL for its supposedly ruthless approach to outsourcing the supply of container-handling labour.
This all suggests that the strike's organizers and supporters could have fine-tuned their story more effectively by zeroing in on Li Ka-shing personally at the outset. Not only are the dock workers crushed by the cartels in terms of unaffordable housing and ever-spiraling Spam costs, but they are on the receiving end of the port operator's determination to squeeze every last penny out the business regardless of the interests of employees. In other words, they represent all of us victims of voracious family-owned monopolies, only more so. As it is, despite some defiance, the strike has an air of fizzling-out about it. Whatever happens, whoever you are, you are still going to be working for KS Li.