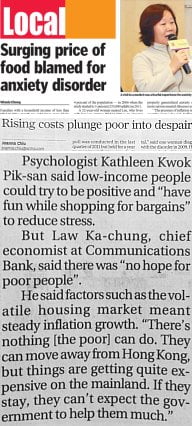 People who can barely afford to feed themselves tend to be miserable. This stunning, Nobel-class discovery comes to us from the Mood Disorders Centre of Hong Kong's Chinese University. If the unhappiness continues for over six months, it is classified as 'generalized anxiety disorder'. Quoted in the Standard, a chief economist at the Centre suggests that the only known cure for the affliction is to delink the Hong Kong dollar from the US currency. This is why all mood disorder centres need chief economists – such a refreshing change from handing out lithium.
I would have thought that getting depressed while suffering from such poverty is in fact perfectly normal, and the hungry destitute who are happy are the ones suffering from a disorder – but what do I know?
One sure antidote to feelings of gloom is the insightful quotes South China Morning Post reporters manage to find to make their stories complete. Thus we have a psychologist called Kathleen Kwok saying that low-income people should try to be positive and 'have fun while shopping for bargains to reduce stress', while another chief economist – this time at Bank of Communications – basically declares that the poor might as well just slash their wrists. Penniless old folk delving for half-rotten fruit at the wet market can console themselves with the thought that at least they have a wealth of options.