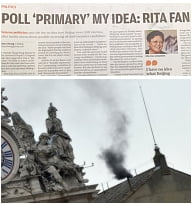 Ceaselessly jabbering National People's Congress deputy Rita Fan says, to no-one's great surprise, that it was she who started the Great Hong Kong Preliminary Election Debate Controversy Scare of 2013. Essentially, her proposal was that 100 pro-Beijing loyalists would meet in a secret conclave and announce the Chinese Communist Party's approved Chief Executive candidates via smoke signals from a chimney, and the city's voters could then choose between them via universal suffrage. It was just something she blurted out. Just as most of us jerk our leg when a doctor taps our knee, Rita involuntarily yacks when a reporter puts a microphone before her. It's surely not my fault, she basically pleads, if they take what I say seriously.
Mercifully, the two-week circus in the nation's capital comes to an end tomorrow for another year.
Back home, the Economic Development Commission has its first meeting. A gushing government press release informs us that…
Members with immense experience and relevant professional knowledge have made insightful comments and entered into interactive and constructive dialogues [sic] with the Government on how to grasp the opportunities provided for under the National 12th Five-Year Plan and other plans, as well as how to promote further economic development and how to maintain Hong Kong's long term competitiveness.
Fatuous Waffle 'R' Us. Chief Executive CY Leung set the body up a couple of months back. Members include a generous number of pro-establishment business figures from former-CE Donald Tsang's time, which suggests a rift-healing effort to please Beijing.
However, there is a less symbolic side to it all, concerning a question that dates back to colonial times: should Hong Kong stick with its supposed non-interventionism or should it go for Singapore-style state planning? Today's China Daily columnist is a typical proponent of the latter approach, saying the old approach has left our economy…
…too lopsided, relying too much on a few sectors, particularly real estate and finance…

The Chief Executive's move to help develop other industries and diversify the economy is the right step for tackling the city's deep-seated social problems. A diversified economy and thriving industries will help improve the city's job-market structure, providing better employment opportunities and upward mobility to workers while giving rise to a stronger middle class.

Government's direct investment in certain industries or projects is necessary, especially when they are still in nascent stages and fail to attract sufficient private investment, or when they are critical to the development of other industries…
The argument is that because there is so much profit to be made out of real estate, capital fails to flow into other industries. It is an analysis that confuses cause and effect. Capital fails to flow into other industries because it gets sucked up by the real-estate sector and its highly supportive associate, Government Land Monopoly Inc. Thanks to an artificial shortage of space, rents (landlord/developer/government earnings) are so high that only financial services and luxury brand retailers can generate enough profit to exist. The economy does not 'rely' too much on real estate; real estate is a parasite.
If government and developers sucked up less of the profit made by wealth-creating economic activities, a hundred commercial flowers could bloom. What would they be? They might be health care, or nanotechnology, or creative blah-blah, or some state-picked 'pillar' industry. Or they might be something else that hadn't occurred to bureaucrats. Investors and entrepreneurs would put their resources into whatever they thought would bring the best returns. The key is: they would have an incentive to do so because they would no longer have to share so much of the returns with property tycoons and John Tsang.
Proponents of more government intervention in capital allocation, rather than less government control of land, must be doing one of two things. Either they are putting the cart before the horse, out of sheer simple-mindedness. Or they want to nurture certain industries without disrupting the property cartel-government racket – said industries just so happening to be ones they are involved in, and said nurturing to be accomplished with your and my money.
Many of the academics involved in this debate belong to the first group. They are so accustomed to the distortions of the land system they don't notice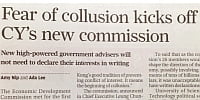 them. Certain business figures, however, surely come in the second, rather more odious, category. The South China Morning Post quotes two members of the Economic Development Commission…
…The government is ready to plan for the next 10 to 20 years, Allan Zeman, chairman of Ocean Park, said. "The government used to have its hands off. Now, like Singapore, it is showing quite a strong leadership."…

…Allen Ha, chairman of the Lantau Economic Development Alliance, called upon the government to … boost the city's tourism capacity by supplying more land for hotels.
Pro-democrat politicians could demand: "Whose land is it anyway?" Instead, they loudly demand that EDC members make declarations of interests. Sheets of paper? Look all around – their interests are staring you in the face.