Some really, really classy restaurants, it says here, have banned patrons from photographing their meals. This anarchist got away with it a couple of weeks ago in the Michelin two-star Amber in the Mandarin Landmark in Central, the only establishment in China to make it into the World's 50 Best Restaurants. The chef is Richard Ekkebus, of whom I had vaguely heard in an isn't-he-a-tennis-player sort of way. World famous among serious foodies, it seems.
The cuisine describes itself as French, but I'm not sure an average Parisian or Lyonais citoyen would recognize any of the dishes here.

We began with this
amuse bouche
. If sculpture using green edible plant material were an artistic genre, it would be a masterpiece. The little discs, barely half an inch across and a few microns thick, are slices of apple. The tube beneath is made of cucumber and contains yogurt. (All ingredients are of course very special, coming from remote valleys in the Andes, etc.) The stuff next to it is guacamole, even though it looks like guacamole. Some nimble-fingered underling in the kitchen must have taken hours, and it's gone in one bite. Nice: a lovely combination of crunchiness, creaminess and fresh, tangy tastes. I make a mental note to consider combining apple and cucumber more often – possibly with a bit of salty cheese? With a thick grainy bread?
When looking through the menu, my host – a Henry Tang wannabe devoted to the whole wine-collecting, golf-playing thing – had recommended the 'Cauliflower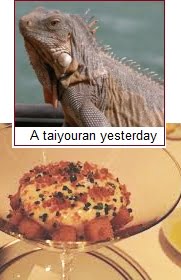 velouté with taiyouran egg sabayon' as the starter. Filtering out the mystery vocabulary, I was left with cauliflower and egg, which sounded OK. It all depended on what a taiyouran was. An egg-laying animal, obviously. But a special superior breed of chicken – or an exotic species of giant iguana? My host said it was Japanese. Imagining some sort of vegetable teppanyaki you could dip in soy sauce, I chose it.
Wrong. It looked quite like this and came in a similar giant wine-glass vessel, to be eaten with a spoon. The staff linger and talk you through dishes, and the waitress suggested that I stir this one before eating it; behind her smile was a grim urgency that said 'you'll regret it if you don't'. Beneath the foamy surface was a black, tarry mucus with brown lumps. Then, delving deeper down, I saw raw egg yolk. I stirred thoroughly before devouring. It was lukewarm and sticky. Obviously, you're supposed to get off in a big way on the mushy/crunchy textures and sweet/savoury flavours. I didn't feel a desperate need to gag, exactly, but I certainly had a sense that I could do so at will, with little effort. It wasn't… what's the word I'm looking for? Enjoyable, that's it. I'm showing my age here, perhaps, expecting food to be enjoyable.
(OK: velouté is a sauce based on chicken stock; Taiyouran is a Japanese brand of hyper-expensive eggs laid by chickens that are fed only secret magic herbs and have daily massages; sabayon – the foamy stuff – is a chic version of the Italian zabaglione, an egg-based desert.)
I was so disturbed by the above course that I didn't have the presence of mind to snap a picture of it or the main event that came next. This looked like a glistening square of French caramel pudding with chopped shallots, beetroot, herbs and cranberries painstakingly arranged on top, and a dark sauce artistically drizzled around. It was in fact 'Stew ravioli wild venison'. A big pasta shell containing slices of deer. Edible and tasty, even, but no improvement on a conventional arrangement of venison with pasta.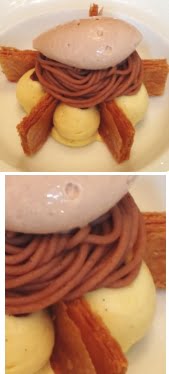 Recovering from the raw yolk-black mucus trauma, I pulled the trusty camera out to capture pudding: 'Chestnut ice-cream, brown rum marinated raisins & pastry diplomat cream served as a deconstructed mille-feuille'. (Whaddya mean, 'What's diplomat cream?') I was suspicious at first. It was magnificent visually – possibly the finest ever expressionist figurine crafted from dairy products and marron glacé. But where, or rather what, was the challenge? Was there shaved air-dried hedgehog loin scattered into the gaps left by the deconstruction of the mille-feuilles? Did chili-stuffed pickled garlic lurk within the cream as a tantalizing contrast to the soothing sweetness? Had Richard Ekkebus's minions left delicate shards of specially imported broken glass in every mouthful?
No. As if to reward the victim diner for getting through the earlier courses, the restaurant served up something you would actually want more of.
Just as you add a pinch of sugar to offset lemon or vinegar, so Amber includes a dash of humour to ensure you're not overcome by the earnest pretentiousness. For example, lollipops made of paté as a between-course nibble. My host, well-known to the staff, got a lot of bowing and scraping, but the heavily-accented French uber-attendant – straight out of central casting – seemed to sense I was a skeptic; as with other supernatural powers, Richard Ekkebus's mystical gifts with food don't always work in the presence of negative vibes. Trying a bit of telepathy with the Filipino and HK Chinese waitresses, I got the impression that deep down they were on my wavelength: why not just have a bowl of noodles?
You're supposed to say the surroundings are amazing (it cost loads and the designer was someone really famous). One thing I noticed is that the artful ceiling radiates a gilded halo over the restaurant's rich spectrum from amber to russet. I did – honest. One thing you get for your money here is space; the surface area of our table for two equalled the square footage of a whole Soho concept themed eatery.
Otherwise, this is the level at which this particular foodie declares that pretentiousness officially begins, thus perhaps revealing himself to be only a semi-foodie after all. Some of us can consider 'sake in a cup that was also previously filled with smoke' and 'liver … paired with a hibiscus reduction' without laughing out loud, some of us just can't manage it.