I don't read South China Morning Post editorials enough to be sure, but this morning's must be the least convincing in quite a while, assuming they're not getting into satire. After describing the many ways in which mass Mainland tourism is making life unbearable for ordinary Hong Kong residents, it begs us to grin and bear it…
Some people will see the extra deluge of tourists as a heightened inconvenience and intrusion, a cause for frowns, scowls and perhaps anger. Given the benefits of tourism to our city, though, we should instead be smiling and offering a friendly hand of welcome.

Those benefits may not come readily to mind as we negotiate crowded shopping streets and jostle for space on public transport in the weeks on either side of Hong Kong's official four-day break. Shelves empty of favourite products and reports of baby milk powder shortages and parallel traders cause annoyance. The closure of yet another long-standing restaurant, the victim of rent rises in districts being transformed by luxury goods stores, prompts fears that culture and heritage are being lost. Those with a chauvinistic attitude speak of the cross-border visitors in terms of hygiene and politeness.
Further down the column, it attempts to justify the plea to lie back and enjoy being raped…
Tourists spent HK$305 billion in 2011 and the economic sector accounted for more than 17 per cent of GDP. About 6.2 per cent of the workforce – more than 218,000 people – owed their jobs to foreign travellers. The retail and hospitality sectors benefit most, but the ripple effects extend throughout our economy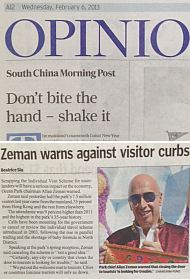 No-one has done a proper cost-benefit analysis of tourism in Hong Kong, but we can safely say that between 2000 and 2012 median household income has barely budged from HK$18,000 a month while tourism arrival figures have gone from 14 million a year to 46 million a year. (Hastily Googled sources here, here, here and here – give or take a year and the deflation/inflation over the period.) We don't know how many jobs have been destroyed as the influx of shoppers and luxury retailers drove small local businesses out of existence. We can assume that most of the HK$305 billion goes straight from the cash tills into the coffers of Italian junk merchants and Hong Kong landlords. That's why 'these benefits may not come readily to mind'.
The oh-so important tourism industry is part of the larger parasitical real-estate cartel scam. The rest of us suffer so a small handful of families effortlessly make more billions. But the swamping of Hong Kong with Mainland visitors leads, as the SCMP delightfully puts it, to 'heightened inconvenience and intrusion … and perhaps anger'. It seems the landlords are nervous. James Tien, born and bred to defend their interests, never stops bleating about how much we need a heavier and heavier crush of tourists. And in today's Standard, Allan Zeman warns that limits on visits would lead Hong Kong to unspecified 'trouble'. Both men occupy public-sector tourism-promotion positions; both personally profit from rising rents and belong to the tycoon-bureaucrat establishment that ran Hong Kong under the last Chief Executive, Donald Tsang.
It looks like a simple conflict between the tycoons and the people of Hong Kong. But does it also represent a clash between the tycoons' interests and Beijing's? The anti-locust sentiment in Hong Kong is surely a concern for Chinese authorities; it is the complete opposite of what is supposed to be happening 15 years after the handover. Indeed, in a sure sign of the seriousness of the 'contradiction', some Mainland observers claim to see evil foreign forces at work behind colonial flag-waving and opinion polls showing Hongkongers to see themselves as less Chinese.
For Beijing to allow curbs on the flow of Mainlanders into Hong Kong would be a loss of face and awkward to sell to the public up there. But if it were the lesser of two evils – if the alternative were growing alienation and hostility among Hong Kong people – the Central People's Government would surely approve it. And if you were a Hong Kong landlord, and you thought that might happen, you would lean on tycoon-owned newspapers to carry gibberish about how we must welcome more and more tourists with open arms.  
Meanwhile, over at the new Legislative Council building at Tamar, late Monday morning…
A shiny red object lurks in the undergrowth.
Could it be a car – one of those ugly Audis, perhaps?
Parked right on the sidewalk?
Yes it could.
No Legco badge, so presumably not an honourable member's.