What are we supposed to be frothing at the mouth about today? Professional sport is corrupt! The real news story here is that someone somewhere thought it wasn't. If someone offers to pay you money for letting some oaf in shorts kick a ball past you on a field, you will do it. It's hardly news.
Richard III, whose remains have been found in Leicester, England, had a sword thrust up his rear end! That was nothing. He was (probably) already dead. Edward II was dispatched in similar fashion with a red-hot poker while alive. They heard the screams miles away. (For the curious, they used a metal funnel – according to my mother, who told me all about it when I was at an impressionable age.)
Hong Kong households are wallowing in debt! 

The helpful Standard table does indeed show significant rises in mortgage and credit card/consumer loans in the last four years. But is this risky borrowing by a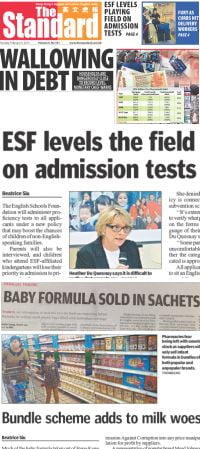 money-grubbing, get-rich-now, speculative refugee society that likes to live on the edge? Or is it prudent behaviour by a generally financially literate population at a time when interest rates are so low and inflation sufficiently high that you are virtually paid to borrow? Are people crazy to (say) take out a tax loan to buy some extra shares in the Link REIT, or crazy not to? The Hong Kong Monetary Authority cares about the banking system rather than families' finances per se, so they're not saying. And no-one else seems to know, either.
The English Schools Foundation is to admit students based on how good they are at English rather than how bad they claim to be at Cantonese. Something like that. Someone has to froth at the mouth about this, but who? Is it the dim expat Westerners who will have no school to attend because they are beaten in the English tests by dazzlingly bilingual Chinese students? Or is it the local families whose kids' English is a bit imperfect but who previously could con their way into ESF schools by pretending not to speak Chinese? Again, no-one seems to know. (It would also be intriguing to find out what Hong Kong's patriotic pro-Beijing camp, and indeed Central People's Government officials, think about the phenomenon of Hong Kong citizens denying knowledge of the national language – but I guess that's asking for too much.)
Evil parallel traders are overcoming the two-can limit on infant milk formula by splitting the powder up into single portions in plastic bags. You'd think this stuff was cocaine or something. Indeed, maybe the traders will start to stamp on it, as drug traffickers do, by diluting it with baking soda. Then word will get out that it has been adulterated, and Mainland mothers will go back to buying their old local product. By Jove – problem solved.
But wait! There's more! Evil distributors are forcing pharmacies to buy unpopular as well as popular brands of baby milk powder. And so formula, previously impossible to find, now clogs up the shelves. This raises the question of what makes a brand of this commodity 'unpopular' when it's all much the same (and from an innocent onlooker's point of view, incredibly overpriced). And if a brand is 'unpopular', why don't you just stop making it?
Edward II's killers had it easy. If I had four feet of red-hot steel and all the parallel traders and baby milk producers lined up before me, I wouldn't know where to start.
And where's Rita Fan while all this going on? Not a day passes, usually, without the former Legislative Council President popping up to give us her opinion on every tiny thing that's going on. Suddenly, just when you're curious, she has vanished.
And why is it still only Tuesday? There's a five-day weekend with my name written on it taking way too long to come round.