When Hong Kong's new government under Chief Executive CY Leung introduced special stamp duty measures to keep hot Mainland money out of the property market, the Real Estate Developers Association wailed that the move would "damage our reputation as one of the freest economies in the world." It is hard to believe that the property cartel had suddenly acquired a deep concern for the city's image. Rather, a new refuge for scoundrels opened for business.
Fears for the Big Lychee's international standing are not new. But with a new, at least semi-reformist, administration in place, vested interests and opponents are looking for weapons, and warnings of reputational damage will do nicely.

It is a sort of moral blackmail, and it seems to be cropping up on an almost daily basis. Today's is from whatever parasites want to keep thousands of families in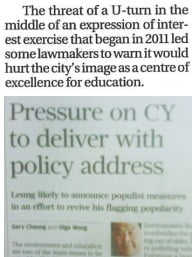 subhuman housing conditions in order to build a private (ie, for rich overseas folk) university. Like the wretched sports stadium in Kai Tak – which CY has shamefully acceded to – this is a vanity/giveaway project left over from the Donald Tsang era. The proposed site could accommodate some 10,000 public housing units. Changing the plan now would, of course, ruin Hong Kong's "image as a centre of excellence for education," whatever that is.
In most cases, the supposed reputation at risk is a figment of local imaginations. But even if our 'reputation as a blah-blah' is real – hard-earned, even – does it outweigh the local community's needs? Policymakers should be putting the onus on their opponents to prove it. Instead, in true inoffensive, harmonious fashion, they will no doubt be cowed into submission. Business constituencies, sectoral lobbies, opportunistic politicians and bureaucratic interests will all probably help in the scaremongering. (Let's leave aside how a decades-old rigged system of land hoarding and collusion with a property cartel can produce a civic reputation for anything positive.)
As every newspaper editorial reminds us, a policy address is just a couple of weeks away, and CY has his golden opportunity to seize the initiative with high-profile, populist, and necessarily short-term, moves. In today's China Daily, academic Victor Fung Keung discusses ways to find at least interim shelter for dwellers of subdivided apartments. He favours the conversion of old factory buildings. This is not as easy as it sounds because most such blocks are not sitting empty but are already used for various purposes – not least, er, subdivided apartments. As he points out, bureaucrats so far are dragging their feet. There are fun alternatives, for those who can get their minds round them. Shipping containers anyone? Seriously. Short/medium term housing like this can go almost anywhere, from the Central reclamation to Kai Tak.
Either way, temporary relief for micro-slum dwellers will attract a thousand possible objections. Current planning/zoning/etc regulations bend over backwards to stop people from having a home. Apartments must have windows on three sides (obviously not possible in an old factory). Residential neighbourhoods must have specific levels of school, hospital, market and transport facilities (obviously not do-able for vacant waterfront reclamations).
The most radical fix to housing – and an environmentally friendly one – is to open up the 200,000 or whatever empty apartments we have in this city. Obviously, there are some administrative and other problems here, but the real anguish would be over principle. In this case, private property rights. If the world's rice harvest failed, and speculators had bought up all Hong Kong's grain inventory and stashed it away to wait for prices to rise, would the government listen to voices saying "don't damage Hong Kong's reputation for free markets," or would they force the supply onto the market?
CY's short-term answer to getting people out of the city's worst housing will probably fall short of fast-tracked factory conversions, let alone wackier and more radical options. The key questions are: how far short, and how much the blame will lie with spurious objections from vested interests and blind opposition? His main chance to win over the population (he has a 49% approval rating to lose) could actually rest on it.