The first week of 2013 hints at a year of wackiness to come: Starbucks metastasizes its way into Vietnam; Colorado (possibly) buys marijuana from vending machines; Mainlanders hoover up baby milk powder everywhere from Australia, to the UK, to plucky little Tai Po; and Beijing's foreign policymakers conclude that Western moves to make the Middle Kingdom part of the global club are aimed at 'retarding and undermining China's power'.
Hong Kong's partially dethroned tycoon/bureaucrat establishment starts the new year with a degree of chutzpah bordering on hubris.
Failed Chief Executive candidate Henry Tang bounds back into the public eye to whine about victor CY Leung being the pot calling the kettle black over illegal structures. The spoilt rich kid was due to have the Big Lychee's top office handed to him on a plate – to the extent he barely deigned to bother with the make-believe campaigning that the quasi-election called for – and still can't come to terms with the (admittedly still barely explicable) fact that he and his plutocrat buddies lost. As for any equivalence between the pair's respective illegal structures: CY's are irregular add-ons like yours and mine, while Henry's massive basement possibly involves a criminal fraudulent planning application. So overbearing is the man's sense of entitlement that he seems to believe he is in a position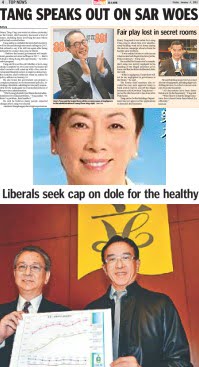 of moral superiority. We can only hope the gods are looking on. In all fairness, he still has his old sense of humour, mischievously stirring things up for his pro-Communist nemesis by telling us he can't wait for democracy.
Eagle-eyed news junkies will have noticed that Henry's old Liberal Party buddies have been popping up rather a lot in recent days. Selina Chow, leggy ex-newsreader/legislator/tourism czar, appears from nowhere to carp about the dreadful CY Leung. Then the ever-odious James Tien does the same. Now James announces his party's call for a two-year freeze on unemployment benefits for the able-bodied. With jobs easy to get and welfare payments low, I doubt there is much of a problem with couch potatoes on the dole, but that's not the point. The point is what the Liberal Party says about such people developing 'psychological inertia and long-term reliance'.
By way of taking a deep breath and counting to ten lest I hit someone, a bit of background. The Tiens (and the Tangs) came to Hong Kong from Shanghai to flee the Communists. The British, relieved to have some fellow non-Cantonese turning up, greeted the newcomers with the ultimate licences to print money: textiles quotas. They didn't even need to own or run garment factories; they just sold the precious rights to export clothing to Western markets to other people who did all the work. That's how Henry's and James's dads became billionaires. As with the property tycoons who succeeded them in the plutocratic hierarchy in the 70s, this was wealth – a major welfare handout – given them on a plate, with zero entrepreneurism or innovation required. A chimpanzee could have done it. But a chimp would be smart enough to keep its thoughts on 'psychological inertia and long-term reliance' to itself.
Why have these slimy nematodes suddenly slithered into the limelight? Presumably, they see CY Leung's problems and smell blood. To the extent they are being waaay too premature here, it's because they are waaay too dimwitted to realize it. One, probably the, main reason for their eagerness is that the pro-democrats have essentially sided with them. Ex-Chief Secretary Anson Chan senses that this strategy is going nowhere, but for the mainstream pan-dems it is an inadvertent meeting of rather unimpressive minds: the psychological inertia of heirs to textiles fortunes and the pro-dems' long-term reliance on permanent and automatic opposition to the government.
I declare the last of a rapid succession of weekends, mid-week weekends and semi-weekends open with a cunning plan to register my pan-dem-style, long-term reliance on disliking Michael Jackson: downloading a pirated version of his Thriller album, thus denying his estate the royalties, then – without listening to it – deleting it and dumping it in the trash folder of my PC.